Take control
of your skin
Find your confidence again with a personalised treatment prescription
Licensed pharmacy, UK registered doctors
No doctor's appointment needed
Expert diagnosis in as little as 4 hours
Next day delivery
Why PrivateDoc?
Tried everything?
Use our simple online consultation to tell us about your symptoms. Your information is reviewed by a doctor, providing you with a tailored prescription for effective treatment.
Need treatment now?
Your consultation will be reviewed within 24 hours (often in as little as 4 hours), with your prescription despatched via next day delivery.
Not sure what the issue is?
Our simple consultation first process enables you to submit photos of the affected skin and answer a set of questions that will enable a diagnosis by a doctor where possible.
Diagnose my skin issue
Know your condition but just need a treatment that works?
If you know your condition and / or what treatment you need you can order this from us too. After an initial consultation you'll be sent your repeat prescription treatment and you'll be able to stay on track with us for all future treatment.
Get treatment for my condition
Get an expert diagnosis with our skincare consultation service
Access support from UK registered GPs
Open all day, every day, all year round
Dispensed by our pharmacy in Edinburgh
Your skin is put through a lot of different circumstances as you live your daily life. Often we do not know know what is wrong with our skin or how to treat issues when they arise, so it is important to get the right treatment and support. Our simple skincare consultation service can help:
Tell us about your medical history and symptoms by completing our simple online consultation
We'll provide you with a tailored treatment plan from one of our UK registered doctors
£19.99 (consultation only)
How it works
Get a personalised treatment plan
Get an expert diagnosis if needed and a treatment plan in as little as 4 hours (max 24 hours)
Medication with you next day
Your treatment will be dispatched via next day delivery in discreet packaging
Ongoing care if you need it
If you choose an ongoing plan we will support you all the way
Know your condition?
Get help now
Tell us about your condition to get a personalised treatment plan prescribed by our expert skincare consultants. You'll be sent prescription treatment and be able to stay on track with us for all future treatments.
Healthy Skin Packages
Find it difficult to choose the right products to use alongside your skincare treatment?
When you've been diagnosed with a skin condition or have sensitive skin, it can be difficult to know which skincare products are going to work with your skin and your prescription. Too often beauty skin treatments can aggravate the problem, leaving your skin feeling worse.
You need to have confidence in your skin routine which is why we've created our healthy skin packages.
Healthy Skin Packages: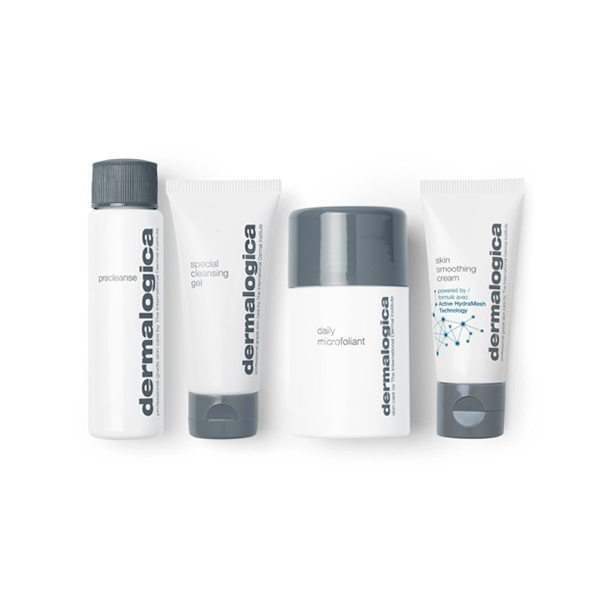 FAQs
Is this a legal way to get treatments?

Yes, our service is completely legal and fully regulated. PrivateDoc is registered with the Care Quality Commission (CQC). All our doctors are registered with the General Medical Council (GMC), and our pharmacists are registered with the General Pharmaceutical Council (GPhC). Prescribing of any treatment follows the National Institute for Health and Care Excellence (NICE) guidelines as well as other leading national best practice guidelines. Our service is fully compliant with all the same regulatory bodies that also look after your family GP practice and your local pharmacy.

If following your consultation, our doctors confirm that prescribing treatment for you is safe and appropriate, they will issue an electronic prescription. Your prescription is sent to our partner pharmacy, who then dispense and despatch your medication. Our pharmacy partner is registered with the GPhC and supplies only genuine licensed medication – sourced through a fully auditable supply chain.

Our pharmacy partner is registered with the Medical and Healthcare products Regulatory Agency (MHRA) to allow it to send prescriptions to you using our delivery partner. They comply with the 'Medicines, Ethics and Practice' guidelines of the Royal Pharmaceutical Society (RPS).

How does the service work?

We follow a 3-step process to make sure any request for treatment is safe and appropriate, and that the treatment is sent to you securely. The 3 steps are:

an online consultation
a thorough review of all the information you have provided
taking payment and delivering treatment to you.

You can find more information about this on our 'How it works' page.

Do I need an appointment and how long does it take?

Our service is available 24 hours a day for you to complete a consultation at a time that suits you, with no appointment needed.

How long will it take for my prescription to be delivered?

All orders are packaged discreetly and delivered by DPD next day delivery. If you place your order with us Monday to Friday, before 2 pm, it will be dispensed and dispatched the same day. Any orders placed after 2 pm, or on a Saturday or Sunday, will be dispatched the following working day. We provide you with a tracking number so you can track your parcel right to your door.y.

What if my consultation isn't approved?

After a review of your online consultation, our doctors will make a clinical decision about whether it is safe and appropriate to prescribe treatment for you. If they decide it is not appropriate, we will let you know, and you will not be charged for this service. Where possible, we will let you know the reason why the consultation has not been approved.

When will you request payment for the treatment?

Where the preferred treatment option is identified as part of the consultation, we will ask for your payment details at this point. This makes it simpler if your treatment is approved, as we can then automatically process the payment and dispatch your treatment, without you having to log back in.

If the treatment options are not clear during the initial consultation, we will review and then provide you with appropriate treatment options. Payment is then taken depending on which treatment is selected.
Meet our team
PrivateDoc is happy to introduce you to some of our leading UK licensed clinicians.
Find out more about specific skin conditions