Eumovate Cream/Ointment

Eumovate (clobetasone) is a moderately potent steroid cream which produces an anti-inflammatory effect. It is an effective treatment for dry skin conditions such as dermatitis, eczema and psoriasis.

Like any other prescription medication you must consult a doctor before using it. PrivateDoc offers a confidential free consultation service that may result in you receiving a prescription for Eumovate Cream/Ointment if it is deemed appropriate and Eumovate Cream/Ointment can be prescribed safely.

Active ingredients
Eumovate ointment contains the active ingredient clobetasone butyrate 0.05%.
It is a paraffin based product and contains both liquid paraffin and white soft paraffin.
How much does Eumovate Ointment Foam cost?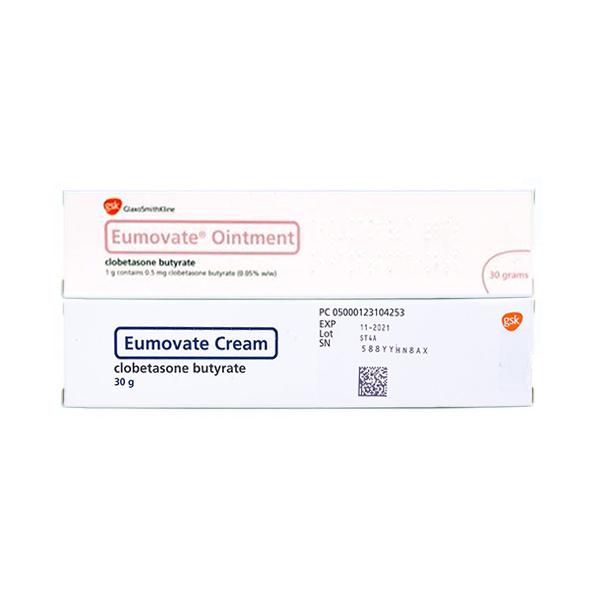 What conditions can Eumovate be used to treat?
Eumovate can be used to treat many conditions of the skin. These include but are not limited to –
Dermatitis (allergic, atopic, irritant, photo or seborrheic)
Eczema
Prurigo nodularis (lumps on the skin which can be extremely itchy)
Otitis Externa (inflammation of the outer ear canal)
Reactions to insect bites
Eumovate is a stronger steroid product compared to hydrocortisone, but not as strong as Betnovate or Dermovate.
Get Started
How to use Eumovate
Eumovate is formulated to be applied topically to the affected skin. It is especially good for skin which is dry, lichenified or covered in lesions which are scaly in appearance.
The ointment should be applied sparingly to the affected area, taking care not to get too much on the surrounding healthy skin. The application process is usually completed once or twice daily until the condition has improved. Once the symptoms have settled, the frequency of application should be reduced, or treatment should be switched to a less potent preparation.
Continuous treatment with Eumovate should be for no longer than four weeks. If you have not seen any improvement in your condition within this timeframe then this should be reviewed by your GP.
Eumovate can be used in children, adults and the elderly. In children under 12 treatment should not exceed 7 continuous days. If improvement has not been seen in a week then treatment and condition should be reviewed. The ointment should always be used in accordance with the prescribers instructions.
Patient are encouraged to start treatment with the least potent steroid preparation and increase the strength gradually until the condition settles. Once symptoms have subsided, you should reduce to a lower potency cream/ointment for continuous long-term management.
Who cannot use Eumovate
Eumovate is generally safe to use in most individuals suffering from the conditions mentioned above. However, treatments should be avoided in the following individuals –
If you have a known allergy to any of the active ingredients or the excipients within the ointment
If you have an untreated skin infection
If you have itchy skin but there is no inflammation
Eumovate should not be used as a treatment option for rosacea or for acne
It is rare for Eumovate to cause systemic issues due to insufficient absorption. However, the likelihood of systemic absorption increases with the following –
The potency of the drug being used and for how long
If you are applying the ointment to a large surface area
Use on thin skin such as the face
Use on broken skin
Use on occluded areas such as skin folds
In these individuals, Eumovate ointment should be used with caution/special care.
Get Started
How much does Eumovate cost?
Pregnancy and breastfeeding
There is limited data available about the use of clobetasone during pregnancy in humans. In animal studies, systemic absorption has been shown to cause foetal developmental abnormalities. The use in pregnant females should be limited to cases where the potential benefits greatly outweigh the risks. Even in these cases, use should be limited to as small an amount as possible for the shortest duration of treatment.
If breastfeeding, the ointment should not be applied to the breasts in case there is accidental ingestion by the infant. There is limited data about whether clobetasone is present in breast milk. Therefore, it's use in breastfeeding mothers should be limited to cases where the benefits greatly outweigh the risks. As stated above, it's use should be restricted to small amounts and for as short a duration as possible.
Side effects
Side effects with Eumovate are very rare. Patients may experience some localised allergic reactions and hypersensitivity reactions.
Systemic absorption may lead to Cushing's Syndrome or hypothalamic-pituitary adrenal axis suppression. Contact with the eyes can lead to the development of glaucoma, cataracts or blurred vision.
In the event of an overdosage, treatment should be reduced gradually to avoid the risk of glucocorticosteroid insufficiency.
Get Started
How much does Eumovate cost?
Meet our team
PrivateDoc is happy to introduce you to some of our leading UK licensed clinicians.