Betnovate Scalp Application

A scalp application containing betamethasone which helps to reduce swelling and irritation associated with certain scalp problems, such as psoriasis or dermatitis.

Like any other prescription medication, you must consult a doctor before using it. PrivateDoc offers a confidential free consultation service that may result in you receiving a prescription for Betnovate Scalp Application if it is deemed appropriate and Betnovate Scalp Application can be prescribed safely.

Ingredients
Betamethasone valerate 0.122% w/w
How much does Betnovate Scalp Application cost?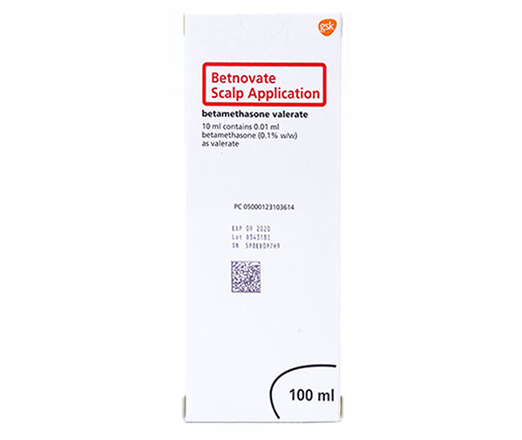 Packs and prices
Prescription included
What conditions can Betnovate Scalp Application be used for
How to use Betnovate Scalp Application
Betnovate Scalp Application should be used in accordance with your prescriber's instructions. Steroid based products help to reduce the inflammation and redness associated with many common skin conditions.
For Betnovate Scalp Application, it is recommended you apply a small amount to the affected area of the scalp in the morning and at night, until you see an improvement. Once the symptoms settle then it may be possible to reduce the frequency to once daily or even less.
In children over 1 year old, the treatment should be limited to 5 days. In the elderly is there is the risk of delayed excretion of any systemically absorbed corticosteroid. Therefore, in this population group, treatment should be with the minimum quantity and for the shortest duration of time required to achieve the desired clinical response.
For a full list of indications, read the Betnovate patient information leaflet.
Who cannot use Betnovate Scalp Application
Pregnancy and breastfeeding
There is limited data about the use of betamethasone in pregnant females. Topical administration of corticosteroids in animal studies have shown to cause abnormalities in the unborn foetus.
The relevance of these studies to humans has not been established and therefore the use of Betnovate Scalp Application in pregnant females should consider the risk to the unborn foetus versus the potential benefit to the mother. If treatment is started, then this should be with the minimum quantity required and for the shortest duration.
Again, it has not been established if it is safe to use topical corticosteroid during breastfeeding. There is no evidence to show whether topical administration results in enough absorption to allow detectable levels of corticosteroid in breast milk. Again, treatment should only be started if the benefit to the mother outweighs the risk to the baby. If used during breastfeeding, then Betnovate Scalp Application should not be applied to the breasts to avoid accidental ingestion by the infant.
Side effects
Although Betnovate Scalp Application is generally well tolerated, a small minority of patients may experience some side effects from the treatment. These can include –
Opportunistic infections
hypersensitivity reactions
Application site irritation
Blurred vision
A full list of side effect can be seen by clicking here for the patient information leaflet.
Get Started
How much does Betnovate Scalp Application cost?
Meet our team
PrivateDoc is happy to introduce you to some of our leading UK licensed clinicians.