Diprosalic Scalp Application

A potent corticosteroid used in the treatment of common inflammatory skin conditions such as eczema and psoriasis.

Like any other prescription medication you must consult a doctor before using it. PrivateDoc offers a confidential free consultation service that may result in you receiving a prescription for Diprosalic Scalp Application if it is deemed appropriate and Diprosalic Scalp Application can prescribed safely.

Ingredients
Diprosalic Scalp Application contains two active ingredients –
Betamethasone Dipropionate 0.05% w/w
Salicylic Acid 2% w/w
Click here for a list of all the excipients (non-active ingredients).
How much does Diprosalic Scalp Application cost?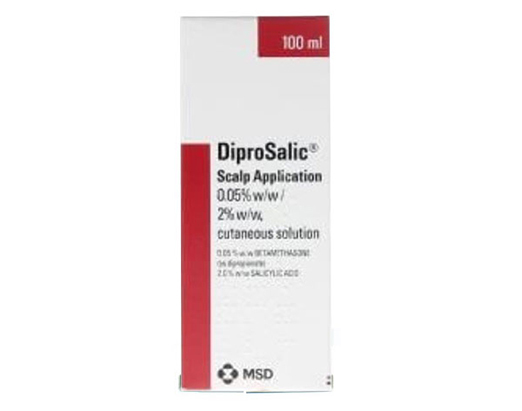 Packs and prices
Prescription included
What conditions can Diprosalic Scalp Application be used for
Betamethasone is a potent topical corticosteroid. When applied to the skin, it helps to reduce inflammation, redness and itching which is caused by common skin conditions such as eczema or psoriasis. Many of these conditions can look scaly in appearance. The salicylic acid helps to soften the top layer of these scales which in turn allows the corticosteroid to treat the skin underneath.
Diprosalic Scalp Application can be used in both adults and children.
Get Started
How much does Diprosalic Scalp Application cost?
How to use Diprosalic Scalp Application
All prescribed medication should be used in accordance with your prescriber's instructions.
The recommended dose for both adults and children is a few drops of the scalp application to be gently by completely rubbed into the affected area of the scalp twice daily.
The scalp application should only be used on the scalp and not any other part of the body.
Do no use a large amount of the scalp application over a prolonged period (daily for a number of weeks or even months).
All effort should be taken to avoid contact with the eyes.
In children the length of treatment should be restricted to a maximum of five days.
Refer to the patient information leaflet for additional guidance.
Who cannot use Diprosalic Scalp Application
Do not use Diprosalic Scalp Application if –
you have a known allergy to betamethasone, salicylic acid or any of the other ingredients.
you have any other skin problems such as rosacea, acne, dermatitis around the mouth, genital itching, nappy rash or any viral rash such as chickenpox, shingles or cold sores.
Do not use the solution under form of bandage, dressing or plaster. Do not use the product for longer than indicated as this can lead to hormonal changes taking place with an increased risk of side effects (especially in children).
I full list of side effects can be found by reading the patient information leaflet.
Get Started
How much does Diprosalic Scalp Application cost?
Pregnancy and breastfeeding
Safety of topical steroid has not been established in pregnancy, the choice to use this medication should be based on the potential risk to the foetus versus the benefit to the mother. Treatment if commenced should be used on small areas and be kept to a minimum treatment length to reduce the likelihood of drug absorption.
Likewise, it is not known whether topical corticosteroids are absorbed in a sufficient quantity to produce a detectable amount in breast milk. The decision to treat should be based on the potential benefit to the mother or the need to continue breastfeeding.
Side effects
Generally, well tolerated with side effects occurring rarely. Side effects can include –
skin atrophy (this usually occurs when there is continuous application without a break in treatment).
hypersensitivity reactions – burning, itching, irritation, dryness, etc.
secondary infections and increased of skin atrophy and skin maceration (increased likelihood of these occurring when used in conjunction with an occlusive dressing)
blurred vision
dermatitis
Additional information can be accessed by referring to the patient information leaflet by clicking here.
Get Started
How much does Diprosalic Scalp Application cost?
Useful links
Click here for the Diprosalic Scalp Application patient information leaflet
Click here for the full summary of the product characteristics
For more information on different types of eczema, on any of the links below: