Rozex Cream

Rozex cream is a topical treatment indicated for the inflammation caused by rosacea.

The average period of treatment for Rozex cream is three to four months. However, if a clear benefit has been demonstrated, continued therapy for a further three to four months period may be considered by the prescribing physician depending on the severity of the condition.

Before you apply Rozex cream, clean and dry the affected area(s) of skin thoroughly. Wash your hands after application. Rozex cream is for use on the skin only. Do not swallow it. If you accidentally do so, seek medical advice
What are the active ingredients in Rozex cream?
The active ingredient in Rozex cream is metronidazole 0.75% w/w
For a full list of excipients, click here.
How much does Rozex cream cost?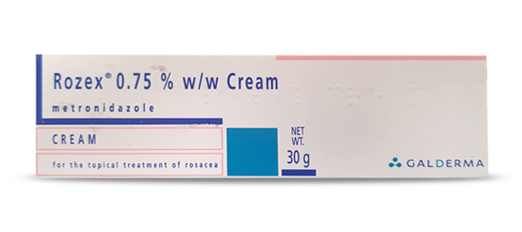 What conditions can Rozex cream be used for?
Rozex cream is indicated for the treatment of inflammatory papules, pustules and erythema as a result of rosacea.
How do I use Rozex cream?
The cream is for topical use only.
Rozex cream should be applied as a thin layer to the affected area(s) twice daily (morning and in the evening). The areas to be treated should be washed beforehand with a mild cleanser and dried.
Treatment length is usually three to four months.
Full instructions can be found by clicking here to access the patient information leaflet.
Who cannot use Rozex cream?
Do not use Rozex cream is for are allergic or sensitive to the active ingredient or any of the excipients.
There is no safety and efficacy data available for use of the cream in a paediatric population. Therefore, the cream should be avoided in this patient group.
A full list of contraindications and cautions can be found by clicking here for the summary of product characteristics.
Can I use Rozex cream if I am pregnant or breastfeeding?
The effects of Rozex cream in pregnant females has not been established. In animal studies, metronidazole did cross the placenta and enter the foetal circulation (no toxicity was observed though). However, as animal studies are not always indicative of human response, use of Rozex cream should be limited in pregnancy unless clearly needed.
Metronidazole is excreted in breast milk, but concentrations absorbed via topical administration are likely to be low. The decision to prescribe to a breastfeeding mother should be based on the need for the drug versus the benefit of breastfeeding a child (in which case the cream should be discontinued).
Click here for the full product summary.
What are the side effects associated with Rozex cream?
Like all medication, Rozex cream can sometimes cause unwanted side effects. Not all patients using the cream will experience side effects. The most common side effects include -
dry skin
redness of the skin
itching of the skin
skin discomfort
localised allergic reaction (redness, inflammation, etc.)
For a full list of side effects, please refer to the patient information leaflet.
Meet our team
PrivateDoc is happy to introduce you to some of our leading UK licensed clinicians.