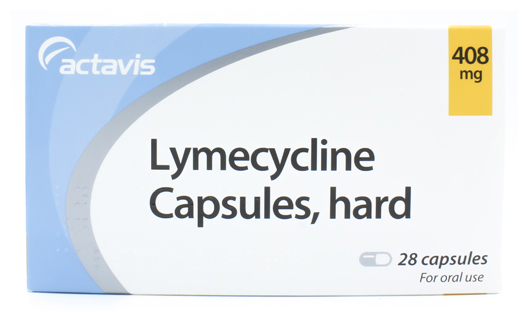 Packs and prices
Prescription included
What are Lymecycline capsules

Lymecycline capsules are from a family of medicines called tetracycline antibiotics. It is used to treat acne by killing the bacteria which cause the infection and inflammation. Lymecycline can also be used in combination with some other acne skin treatments.

Lymecycline capsules are an oral capsule to treat your acne so you will still need to wash and cleanse your skin twice a day. Try your hardest to avoid picking or squeezing spots as this can make them more inflamed and may also lead to scarring.
Frequently asked questions about Lymecycline capsules
How does Lymecycline work?

Lymecycline capsules are used to treat acne by killing the bacteria which causes the infection and inflammation of blocked pores. Using skin creams or gels, such as Differin or Epiduo, should be used alongside Lymecycline to reduce antibiotic resistance.

How much does Lymecycline cost?

Packs and prices

Prescription included

How long does it take Lymecycline to work?

How long you take Lymecycline capsules depends on how quickly your condition improves. However, acne responds slowly to antibiotics, so they are not an instant fix. It can normally be at least 8 weeks.

You should continue to take your Lymecycline capsules as your doctor prescribes. If you stop taking them too soon, your acne could get worse or come back.

Get Started

How do I take Lymecycline?

One capsule once a day, preferably in the morning. Lymecycline capsules should always be swallowed with a glass of water.

What happens if I take more tablets that I was supposed to, or I miss a dose?

If you take too many capsules, or you think a child or someone else may have swallowed any of your capsules, contact 111, tell your doctor immediately or go to your nearest hospital accident and emergency.

You should never take a double dose to make up for a forgotten dose. If you forget to take a dose take it as soon as you remember it and then take the next dose at the right time.

Get Started

Is it safe to buy Lymecycline online?

While many online retailers claim to supply genuine medicines, they may be unregulated, provided without a genuine doctor consultation and potentially very dangerous.

You can rest assured, PrivateDoc is a fully registered digital health service. We have UK registered doctors that review and assess every consultation. All the medicines we supply are 100% genuine and fully regulated by the Medicines and Healthcare products Regulatory Agency (MHRA).

Special considerations when taking Lymecycline

Lymecycline capsules should not be used if you:

are under 12 years of age as it can cause permanent discolouration of tooth enamel and affect bone development
are allergic to Lymecycline, any other tetracyclines or any of the other ingredients
have ever had kidney disease
are pregnant or breastfeeding

Do not take the following medicines at the same time as your Lymecycline capsules, take them at least two hours before, or two hours after:

indigestion remedies
ulcer healing medication
quinapril (for high blood pressure)
supplements containing calcium, aluminium, magnesium, zinc or iron

Tell your doctor if you are taking any of the following:

oral retinoids (to treat acne)
anticoagulants (to stop the blood clotting)
diuretics (used to treat kidney disease, heart disease or high blood pressure)
medicines for epilepsy including barbiturates e.g. phenobarbitone, phenytoin and carbamazepine
methoxyflurane (an anaesthetic)

Lymecycline capsules with food and drink: Absorption of lymecycline capsules is not affected by moderate amounts of milk (e.g. a glass). Lymecycline capsules should always be taken with a glass of water.

Pregnancy and breastfeeding: Lymecycline capsules must not be taken if you are pregnant or breastfeeding. Lymecycline capsules may affect the proper growth of developing teeth and lead to permanent discolouration.

Get Started

What are the side effects associated with Lymecycline capsules?

Like all medicines, this medicine can cause side effects, although not everybody gets them.

If you experience any of the following serious side effects, stop taking your capsules and tell your GP immediately or go to your nearest hospital accident and emergency department.

Serious allergic reaction which causes swelling of the face, tongue and throat that can cause great difficulty in breathing
Serious illness with severe peeling and swelling of the skin, blistering of the skin, mouth, eyes genitals and fever. Skin rash with pink-red blotches especially on palms of hands or soles of feet which may blister

---

Other side effects include:

Common (may affect up to 1 in 10 people)

Nausea (feeling sick)
Abdominal pain
Diarrhoea
Headache

Unknown frequency of occurrence (frequency cannot be estimated from the available data):

Disturbances of eyesight
Dizziness
Vomiting (being sick)
Yellowing of the skin or eyes (jaundice)
Increased sensitivity of the skin to sunlight
Increased pressure in the brain
Changes in the number or type of certain blood cells
Pain in the upper part of the abdomen
Changes in some blood tests (tests of liver function)
Fever
Itchiness, skin rash or hives
Inflammation of the intestine

The following side effects may occur during treatment with the class of medicines to which Lymecycline capsules belongs (the tetracyclines):

Inflammation or ulceration of the gullet, causing pain or difficulty swallowing or painful heartburn
Difficulty in swallowing
Inflammation of the pancreas
Liver damage
Teeth discolouration
Inflammation or soreness of the tongue, mouth, cheeks, gums or lips
Soreness or itching of the genital area
Yeast infection around the anus or genitals
Infection of the colon
Permanent visual loss

For complete details about all side effects always read the Patient Information Leaflet
Meet our team
PrivateDoc is happy to introduce you to some of our leading UK licensed clinicians.