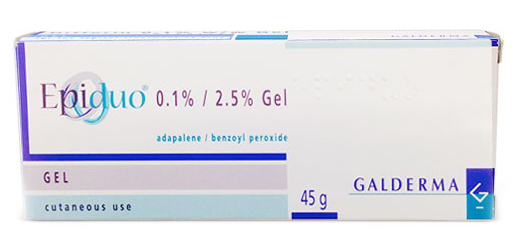 Packs and prices
Prescription included
What is Epiduo Gel?

What is Epiduo Gel? Epiduo is a topical gel for acne that combines two active ingredients; the retinoid adapalene (0.1%) and benzoyl peroxide (2.5%). It is applied directly to the skin, working to unblock pores and eliminate bacteria that causes acne.
Frequently asked questions about Epiduo Gel
How does Epiduo Gel work?

Epiduo is a topical gel for acne that is applied once a day and combines two active ingredients; adapalene (0.1%) and benzoyl peroxide (2.5%).

Adapalene is a retinoid that works directly on the skin processes to help to reduce your acne and benzoyl peroxide is an antimicrobial that softens and peels the outer layer of skin.

How much does Epiduo Gel cost?

Packs and prices

Prescription included

What should I do if I apply more Epiduo than I should or miss a dose?

Applying more frequently will not clear up your acne any quicker, but it is likely to cause more redness and skin irritation.

If you forget a dose, do not apply a double dose to make up for the missed dose. You should wait until your next planned dose and apply as normal.

Get Started

Always use your medication exactly how your doctor has told you.

Apply a thin layer of Epiduo over the affected areas once a day at bedtime, being careful to avoid your lips, eyes and nostrils. It is important to remember that this product does not replace washing. You should cleanse and thoroughly dry your face before you apply Epiduo, and wash your hands following application.

What happens if I think it is too strong or not strong enough?

If you think that Epiduo is too strong for your skin and you are getting irritation, you should speak to our doctors. They may recommend that you apply a moisturiser, use the gel less frequently, that you stop using the gel altogether or discuss alternative treatment options.

If you feel your treatment is not working speak with one of our doctors – you should be aware that you wouldn't necessarily expect to see any results until you have been using the treatment regularly for about 8 weeks. If after 8 weeks you are still concerned our doctors can advise you about what action you can take.

Get Started

Is it safe to buy Epiduo online?

While many online retailers claim to supply genuine medicines, they may be unregulated, provided without a genuine doctor consultation and potentially very dangerous.

You can rest assured, PrivateDoc is a fully registered digital health service. We have UK registered doctors that review and assess every consultation. All the medicines we supply are 100% genuine and fully regulated by the Medicines and Healthcare products Regulatory Agency (MHRA).

Special considerations when taking Epiduo

Epiduo should not be used if you:

are under 9 years old
are allergic to any of the ingredients in Epiduo
are pregnant. If you fall pregnant while using Epiduo stop treatment and contact your Doctor
have any cuts, scrapes or scratches, sunburn or eczema on the skin in the area that you are treating
are also using other acne treatments that contain benzoyl peroxide and/or retinoids at the same time as Epiduo
are also using products that exfoliate the skin or cosmetics that are irritant or drying

Avoid getting Epiduo:

into your eyes, nostrils, mouth or other sensitive areas, you should wash immediately with plenty of warm water
on to coloured hair or coloured fabrics as it may bleach them. Always wash your hand thoroughly after use

Epiduo can be used while breastfeeding but to avoid the infant getting Epiduo on their skin, application to your chest should be avoided.

Epiduo also contains propylene glycol (E1520) which can cause skin irritation on some people.

Get Started

What are the side effects associated with Epiduo?

Like all medicines, this medicine can cause side effects, although not everybody gets them.

Stop taking immediately if you develop any tightness in your throat or swelling of your eyes, face, lip or tongue, feel faint or have difficulty breathing.

Stop using this product if you develop hives or itching of the face or body.

---

Common (may affect up to 1 in 10 people)

Dry skin
Local skin rash
Burning sensation
Irritation of skin
Redness
Scaling

Uncommon (may affect up to 1 in 100 people)

Not known

Swelling face
Allergic reactions; swelling of the eyelids, tightness in the throat
Pain of skin – stinging
Blisters
Difficulty breathing
Skin discolouration
Application site burn – mostly superficial but has been known to cause severe blisters

If skin irritation occurs, it is likely to be mild to moderate, with local signs of redness, dryness, scaling, burning and pain. Which peaks during the first week and resolves without the need for additional treatment.

For complete details about all side effects always read the Patient Information Leaflet.
Meet our team
PrivateDoc is happy to introduce you to some of our leading UK licensed clinicians.