What is Saxenda?
Saxenda sometimes also known as liraglutide is is an injectable prescription medication used for the treatment of obesity in adults. It is a prescription medication and must be prescribed by a registered professional.
How does Saxenda help you lose weight?
Saxenda works by working with the hormones your body produces that regulate feelings of hunger. Your body produces a hormone called GLP-1, which helps to regulate your appetite, telling you when to be hungry or not. Saxenda works like GLP-1, regulating your appetite which can lead to eating fewer calories and losing weight.
How effective is Saxenda?
In clinical trials for the treatment of obesity using Saxena, Patients were administered with Saxenda 3mg daily dose or a placebo for 56 weeks and were given counseling about lifestyle changes they need to adopt related to a calorie-controlled diet and regular physical exercise. Across the study the results concluded that patients treated with Saxenda experienced a statistically significant reduction in weight when compared with the placebo. Patients treated with Saxena achieved between 5% & 10% weight loss when compared with the placebo.
In a further study which looked at users taking Saxenda for a 3 year period;
56%

achieved significant weight loss at year 1, and
Approximately

half of these patients maintained weight loss at 3 years

when taking Saxenda with a reduced-calorie meal plan and increased physical activity, compared with people not on the drug
In the 3-year study, 2,254 adults with pre-diabetes and in the obese BMI category with one or more weight-related conditions were given Saxenda (1,505 people) or placebo (749 people) added to a reduced-calorie meal plan and increased physical activity. The study looked at how many people lost at least 5% or more of their body weight. After 1 year on Saxenda, 891 people (56%) lost at least 5% of their weight vs 182 patients on the placebo (25%). After 3 years, 747 people on Saxenda and 322 people on placebo remained and had their weight measured. 391 of those people on Saxenda (26%) lost ≥5% of their weight at both the 1- and 3-year marks vs 74 people on placebo (10%).
Further studies are available to view on the Saxenda website here: www.saxenda.com
How to use Saxenda?
Saxenda is an injection weight loss treatment. You inject your dose under the skin (this is called a subcutaneous injection) in your stomach area (abdomen), upper leg (thigh), or upper arm. Do not inject into a vein or muscle. You can inject your Saxenda injection yourself in the upper arm, abdomen, or thigh.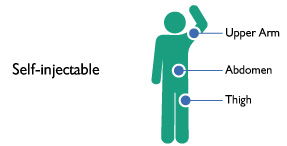 How long does Saxenda last?
Depending on whereabouts you are on your weight loss journey with Saxenda, depends on how long the injection pen will last.
When you first start Saxenda
Saxenda comes in a 3ml pre-filled injection pen. When you first start Saxenda, a single pen will last 17 days and the first full pack of five pens will last six weeks.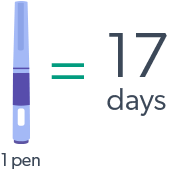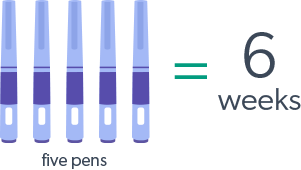 When you're on a Saxenda treatment plan, you need to gradually increase your dose in 0.6mg intervals, as advised by your prescriber, until you reach what is called the maintenance dose at 3mg daily. Once this is achieved this remains as the dose you use throughout your maintenance period. This is the dose at which you will continue to take Saxenda.
You increase your dose as follows: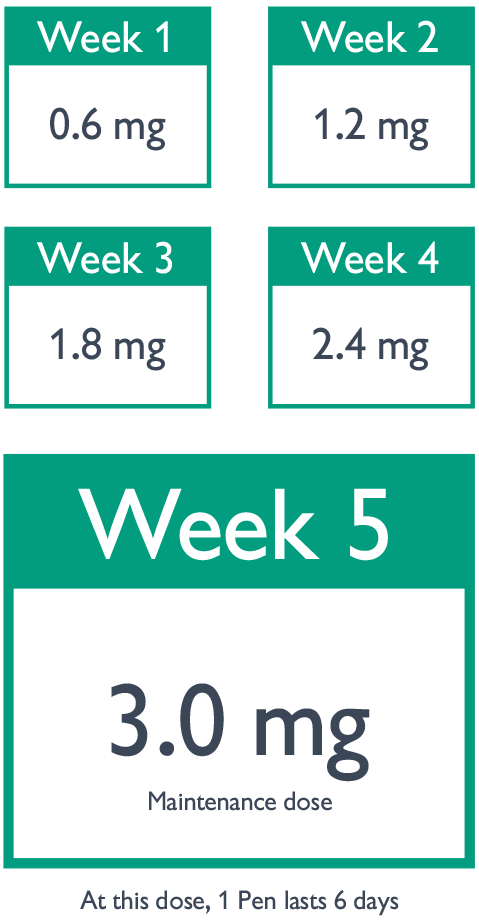 Ongoing Saxenda maintenance use
Once you're past the 4-week dose-escalation period and have achieved the maintenance dose, a 3ml pre-filled injection pen lasts 6 days and a pack of five pens lasts 30 days. To continue on the medication your prescriber will check in to make sure you've achieved the weight loss we'd expect to see, and to check in on how you're getting on overall.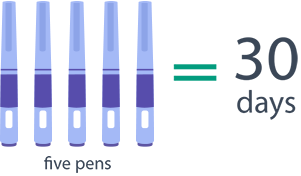 How long does Saxenda take to work?
Saxenda is not a quick-fix weight loss medication, it is designed to be used in conjunction with a healthy lifestyle to support long term weight loss. By your 4 month follow up appointment , you should have lost at least 4% of your bodyweight.
How much does Saxenda cost?
Here at PrivateDoc we ensure our prices are competitive, with no hidden extras. There are a variety of different options on how you can purchase Saxenda as part of one of our weight loss treatment plans. Prices for Saxenda start from £60.
Can I get Saxenda on the NHS?
Saxenda prescriptions for use as an obesity treatment are not currently available for people without other pre-existing medical conditions; however, as a fully licensed clinic with online UK GPs, we can approve and prescribe use of this treatment. To get started and find out if Saxenda is for you simply complete your online consultation today.
How it works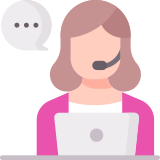 02.
Get personalised care
We'll provide you with a tailored treatment plan from a UK registered doctor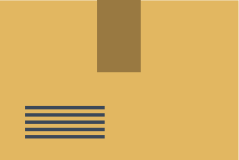 03.
Get next day delivery
Receive genuine medication shipped discreetly to your door
Did you know?
Over 40% of the population has tried to lose weight at some point in the last 5 years – so you're certainly not alone