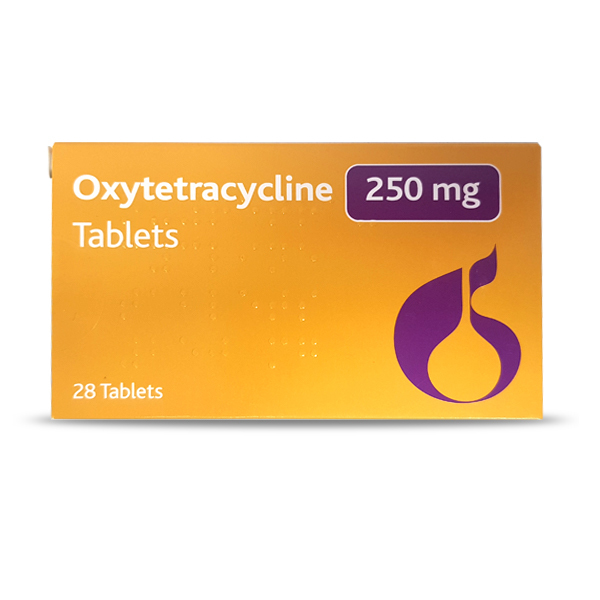 Packs and prices
Prescription included
What is Oxytetracycline?

Oxytetracycline is a prescription-only skin treatment. Oxytetracycline belongs to a group of antibiotics known as tetracyclines used to treat bacterial infections, especially acne & rosacea.
Frequently asked questions about Oxytetracycline tablets
How does Oxytetracycline tablets work?

Oxytetracycline is an antibiotic and belongs to the tetracycline group of drugs. It is classed as a broad-spectrum antibiotic which means it can be used to treat a wide range of bacterial infections. Oxytetracycline can be used to treat skin infections such as acne and severe rosacea (where antibiotics are indicated).

Bacteria that feed on sebum produced by the sebaceous glands in the skin, produce waste products and fatty acids that irritate the glands, making them inflamed and causing spots. By controlling bacterial numbers, oxytetracycline reduces the inflammation and allows the skin to heal.

How much does Oxytetracycline cost?

Packs and prices

Prescription included

What should I do if I apply / take too much or miss a dose?

If you miss a dose, then this should be taken as soon as you remember. If this is close to when the next dose would be due, do not take a double dose. Instead continue as normal from when the next dose would be due.

There are no reported specific overdose symptoms or problems. In cases where an overdose is suspected, treatment should be with the administration of milk and antacid remedies. In severe cases stomach pumping may be required.

How long does it take Oxytetracycline to work?

As with all medication used to treat rosacea, oxytetracycline can take a different length of time to work for each patient. The majority of patients will see a marked improvement in their skin within two months of taking the antibiotic. The usual course for oxytetracycline is at least three months (total length of treatment will be determined by the prescriber). If no improvement has been seen after three months, then treatment should be discontinued and an alternative option should be considered.

Is it safe to buy Oxytetracycline online?

Oxytetracycline is a prescription only medicine. This means that the medication can only be issued following the presentation of a valid NHS or Private prescription. At PrivateDoc we have a team of GMC and GPhC registered doctors and pharmacists, all with many years of experience in prescribing for skincare issues. Once a consultation is completed, this is reviewed by one of our prescribers. If deemed appropriate, a prescription is issued and sent securely to our GPhC registered pharmacy, where the treatment will be dispensed and shipped securely.

Who can and cannot take Oxytetracycline?

Tetracyclines are designed to be taken by adults and children over the age of 12. They should never be given to anyone under the age of 12.

---

You should not take Oxytetracycline if -

You have a known sensitivity to the tetracycline group of drugs or allergic to any of the other ingredients contained in the tablets. The tablet colouring includes tartrazine (E102), which can cause allergic-type reactions including asthma. Allergy is more common in those people who are allergic to aspirin. An allergic reaction may be recognised as a rash, itching, swollen face or lips, or shortness of breath.
You have been told by your doctor that you have an intolerance to some sugars. These tablets contain lactose and sucrose.
You are suffering from a severe liver or kidney complaint or porphyria.
You are pregnant or breast-feeding (unless instructed to do so by your doctor).
You are suffering from Systemic Lupus Erythematosus (an immunological disorder affecting connective tissue and vessels of the skin, nervous system, heart, lungs, kidneys, joints and other organs).

---

Take special care with Oxytetracycline tablets and tell your doctor if: -

You suffer from myasthenia gravis, a condition characterised by muscle weakness, difficulty chewing and swallowing and slurred speech
Have reduced kidney or liver function.

---

If you are pregnant, planning to become pregnant or are breast feeding, ask your doctor or pharmacist for advice before taking oxytetracycline as this could cause harm to the baby.

For further information and contraindications please see the patient information leaflet.

How do I take Oxytetracycline?

The tablets should be taken orally ideally on an empty stomach (one hour before or two hours after food).

Your doctor will decide the most appropriate dose for you. The usual dose is 1-2 tablets(250-500mg) daily either as a single dose or in divided doses for three months.
Always use the medication as instructed by the doctor and follow the advice on the pharmacy label. If you do not understand anything ask your doctor or pharmacist before taking the medication.
Swallow the tablets whole whilst standing or sitting down. Do not take the tablets immediately before going to bed.
Dairy products should be avoided at the same time as taking oxytetracycline as these will adversely affect the absorption of the antibiotic into the patient's system.

What are the side effects associated with Oxytetracycline

The majority of patients take oxytetracycline without any problems. However, like all medication, oxytetracycline has the potential to cause side effects.

Tell your doctor if the following side effects occur: -

gastric upsets, such as nausea or vomiting, diarrhoea and difficulty in swallowing and irritation of the oesophagus (gullet)
pseudomembranous colitis (watery diarrhoea, fever and cramps)
inflammation of the pancreas (pancreatitis, causing pain in the abdomen or back, feeling sick and fever)
If you notice increased bruising, nosebleeds, sore throats, infections, excessive tiredness, breathlessness on exertion or abnormal paleness of the skin, you should tell your doctor who may want you to have a blood test
an overgrowth of resistant organisms which may cause infection/inflammation of the mouth, tongue, intestines and vagina,
skin rashes, which involve changes to the colour and texture of the skin

Stop taking the tablets immediately and seek urgent medical advice if the following occur: -

symptoms of an allergic reaction: skin rashes which may be itchy, swelling of the face and tongue. Fever and chest pain (symptoms of inflammation of the membrane around the heart) or breathing difficulties and collapse (anaphylaxis)
symptoms of raised pressure in the skull: headache, visual problems including blurred vision, "blind" spots, double vision
sensitivity to sunlight or artificial light such as sunbed (symptoms such as tingling, burning or redness of the skin)

For further information and a full list of possible side effects please see the patient information leaflet

Can I use Oxytetracycline if I am pregnant or breastfeeding?

Tetracyclines should be avoided in pregnancy unless unavoidable.

During pregnancy, tetracyclines can cause problems with skeletal development in the unborn foetus as well as liver toxicity in the mother.

The drug is also excreted into breast milk and therefore should be used with extreme caution in breastfeeding mothers. The potential to inhibit adequate bone development in the baby should be explained to the mother and if an alternative product is available then this should be used instead.
Meet our team
PrivateDoc is happy to introduce you to some of our leading UK licensed clinicians.