Sumatriptan

Sumatriptan belongs to a group of medicines called serotonin receptor (5-HT1) agonists. It's a painkiller specifically used to relieve migraine attacks.

Like any other prescription medication you must consult a doctor before using it. PrivateDoc offers a confidential free consultation service that may result in you receiving a prescription for Sumatriptan, if it can prescribed safely.

What is Sumatriptan?
Migraine headaches are thought to result from the dilatation of blood vessels. Sumatriptan constricts these blood vessels, thus relieving the migraine headache.
Sumatriptan tablet is used to treat migraine attacks with or without aura (aura is a premonition usually connected with flashes of light, serrated images, stars or waves).
How much does Sumatriptan cost?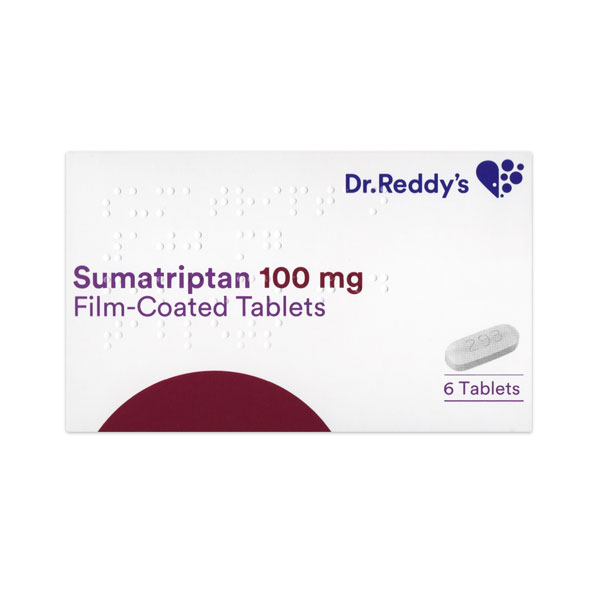 Who can use Sumatriptan
Do not use Sumatriptan tablet if:
you are allergic to sumatriptan or any of the other ingredients in Sumatriptan tablet you have a heart problem such as narrowing of the arteries (ischaemic heart disease) or chest pains (angina), or have already had a heart attack.
you have had a stroke or a mini-stroke (TIA or a transient ischaemic attack).
you have blood circulation problems in the legs causing cramp-type pain when you walk (peripheral vascular disease, PVD).
you have high blood pressure or if your blood pressure remains high despite medication.
you have severely reduced liver function.
you use, or have recently used, medication containing ergotamine or similar medicines such as methysergide maleate (for the treatment of migraine).
you use, or have recently used, the so called MAO inhibitors (for instance moclobemide for the treatment of depression or selegiline for the treatment of Parkinson's disease).
If you feel pain or tightness in your chest after you use sumatriptan. These effects may be intense but they usually pass quickly. If they don't pass quickly, or they become severe, get medical help immediately.
For further information and contraindications please see the patient information leaflet
Get Started
How to take Sumatriptan
Swallow the tablet whole with water. Preferably take as soon as possible after starting a migraine attack. Do not chew or crush the tablets. If you experience that the effect of Sumatriptan tablet is too strong or weak, contact your doctor or pharmacist.
If the first tablet has no effect Do not take a second dose for treatment of the same migraine attack even if the first dose would not alleviate the symptoms. Sumatriptan tablet can still be used for your next attack. If Sumatriptan tablet doesn't give you any relief, ask your doctor for advice.
If your symptoms start to come back If the symptoms are reduced after the first dose but later return, the dose may be repeated once, in rare cases a maximum of twice, during 24 hours. But at least two hours has to be waited between the doses. A daily dose of 300 mg must not be exceeded.
For further information and dosage please see the patient information leaflet
How much does Sumatriptan cost?
Possible side effects
Like all medicines, Sumatriptan can cause side effects, although not everybody gets them. The following side effects may happen with this medicine, although some of the symptoms listed may have been caused by the migraine attack itself.
Common side effects include
Drowsiness, dizziness, sensory disturbances Difficulty in breathing.
Muscle pain Temporary increase in blood pressure (arising soon after treatment), flushing
Feeling of weakness, tiredness
Feeling sick (nausea) or being sick (vomiting)
Pain, sensation of heat or cold, pressure, tightness or heaviness. These symptoms are generally transient (temporary) and may appear in any part of the body, including chest and throat.
Allergic reaction - Not known (cannot be estimated from the available data):
Allergic reaction of the skin; skin rash such as red spots or hives (skin lumps).
Anaphylaxis (strong allergic reactions such as swollen eyelids, face or lips and sudden wheeziness, fluttering, tightness in the chest or total collapse).
If any allergic reactions appear, stop taking Sumatriptan tablet. Contact your doctor immediately.
For further information and a full list of possible side effects please see the patient information leaflet
Get Started
Meet our team
PrivateDoc is happy to introduce you to some of our leading UK licensed clinicians.