Fexofenadine

Fexofenadine is an antihistamine used to relieve allergy symptoms such as watery eyes, runny nose, itching eyes/nose, sneezing, hives, and itching. It works by blocking a certain natural substance (histamine) that your body makes during an allergic reaction.

Like any other prescription medication you must consult a doctor before using it. PrivateDoc offers a confidential free consultation service that may result in you receiving a prescription for Avamys if it is deemed appropriate and Fexofenadine can prescribed safely.

Active ingredients
The active substance is fexofenadine hydrochloride. Each Film-Coated Tablet contains 180 mg of fexofenadine hydrochloride; equivalent to 168 mg of fexofenadine.
The other ingredients (excipients) are:
Tablet core:
Powdered cellulose
Mannitol (E421)
Maize starch
Croscarmellose sodium
Colloidal
Anhydrous silica
Magnesium stearate
Tablet coating:
Opadry pink film-coating mixture containing hypromellose (E464)
Titanium dioxide (E171)
Macrogol 400
Allura red AC lake (FD&C Red #40) (E129)
Iron oxide, black (E172)
How much does Fexofenadine cost?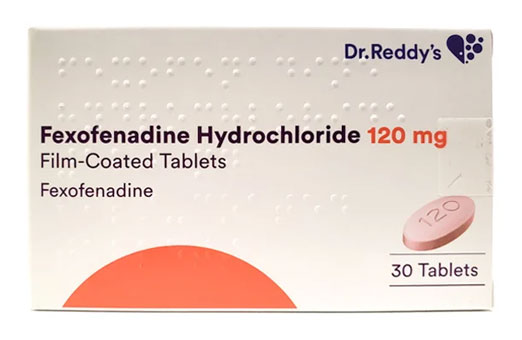 What conditions can Fexofenadine be used for
Fexofenadine hydrochloride 180 mg Film-Coated Tablets are used in adults and adolescents of 12 years and older to relieve the symptoms that occur with long term allergic skin reactions (chronic idiopathicurticaria) such as itching, swelling and rashes.
Get Started
How much does Fexofenadine cost?
How to use Fexofenadine
Always take this medicine exactly as your doctor has told you. Check with your doctor or pharmacist if you are not sure.
For adults and children aged 12 years and over, the recommended dose is one tablet (180 mg) daily. Take your tablet with water before a meal. This medicine starts to relieve your symptoms within 1 hour and lasts for 24 hours.
Who cannot use Fexofenadine
Talk to your doctor or pharmacist before taking Fexofenadine Tablets if you:
have problems with your liver or kidneys
have or ever had heart disease, since this kind of medicine may lead to a fast or irregular heart beat
are elderly
If any of these apply to you, or if you are not sure, tell your doctor before taking Fexofenadine Tablets.
Get Started
How much does Fexofenadine cost?
Pregnancy and breastfeeding
If you are pregnant or breastfeeding, think you may be pregnant or planning to have a baby, ask your doctor or pharmacist for advice before taking any medicine.
Do not take Fexofenadine hydrochloride 180 mg Film-Coated Tablets if you are pregnant, unless necessary. Fexofenadine Tablets are not recommended during breastfeeding.
Side effects
Tell your doctor immediately and stop taking Fexofenadine Tablets if you experience swelling of the face, lips, tongue or throat, flushing, chest tightness and difficulty breathing, as these may be signs of a serious allergic reaction.
Systemic absorption may lead to Cushing's Syndrome or hypothalamic-pituitary adrenal axis suppression. Contact with the eyes can lead to the development of glaucoma, cataracts or blurred vision.
In the event of an overdosage, treatment should be reduced gradually to avoid the risk of glucocorticosteroid insufficiency.
Some patients may also experience opportunistic skin infections.
Get Started
Meet our team
PrivateDoc is happy to introduce you to some of our leading UK licensed clinicians.