Femodene

Femodene is a monophasic 21-day contraceptive pill containing the active ingredients ethinylestradiol and gestodene. It helps to make it harder for the sperm to penetrate the womb and to reduce the chance of a fertilised egg implanting in the womb. It is over 99% effective at preventing pregnancy if taken correctly.

Femodene is a prescription only medicine, like any other prescription medication you must consult a doctor before using it.

PrivateDoc offers a confidential free consultation service that may result in you receiving a prescription for Femodene if it is deemed appropriate and can prescribed safely. Complete a 100% free and secure consultation to explore your treatment options.
Who can take Femodene?
Take Femodene every day for 21 days
Femodene comes in strips of 21 pills, each marked with a day of the week.
Take your pill at the same time every day.
Start by taking a pill marked with the correct day of the week.
Follow the direction of the arrows on the strip. Take one pill each day, until you have finished all 21 pills
Then have a 7-day break when you will have your period.
Following the 7-day pill-free period start your new pack of pills on the 8th day.
Note – Swallow each pill whole, with water if necessary.
How much does Femodene cost?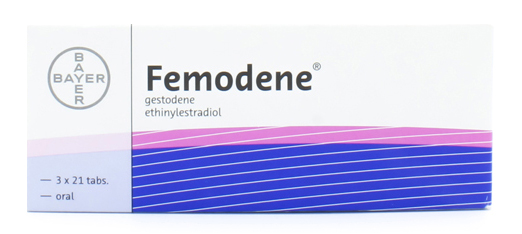 Packs and prices
Prescription included
Treatment Warnings
Do not take Femodene if you are pregnant.
Do not take Femodene if you are breast feeding.
Do not take Femodene if you have, or are at risk of, Deep Vein Thrombosis
Do not take Femodene if you are allergic to any of its active ingredients
Some medicines can reduce the effectiveness of the contraceptive pill including some antibiotics, please read the Patient Information Leaflet enclosed with your medicines for a full list of medicines that may affect your contraceptive pill.
Get Started
Meet our team
PrivateDoc is happy to introduce you to some of our leading UK licensed clinicians.