Avamys

Avamys is a nasal spray used to treat the symptoms of allergic rhinitis. This includes symptoms such as sneezing, blocked or runny noses, and itchiness.

Like any other prescription medication you must consult a doctor before using it. PrivateDoc offers a confidential free consultation service that may result in you receiving a prescription for Avamys if it is deemed appropriate and Avamys can prescribed safely.

Active ingredients
Avamys contains the active ingredient fluticasone furoate with each dose delivering 27.5mcg of fluticasone.
The spray contains a white suspension which is delivered as a fine mist.
How much does Avamys cost?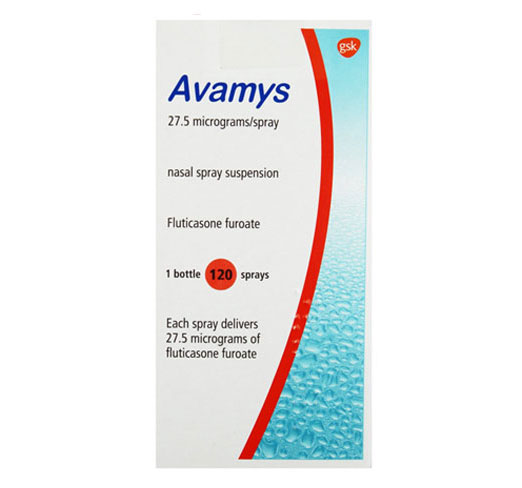 Packs and prices
Prescription included
What is Avamys used for?
Avamys reduces inflammatory reactions of the mucous membrane within the nasal passages.
Avamys is prescribed by doctors for allergic rhinitis: a condition in which the patient usually suffers from a runny and / or stuffy nose, sneezing, itching of the nose and / or eyes, watery and / or red eyes.
Allergic rhinitis may be caused by hay fever or allergies to pets, dust mites or certain fungi.
Commonly, the symptoms are seasonal, but some people suffer chronically. Avamys fights the allergic reaction of the nasal mucosa thereby reducing the symptoms of allergic rhinitis.
Get Started
How much does Avamys cost?
How to take Avamys
Avamys nasal spray should be administered daily at a fixed time. Shake the nasal spray before use. Aim the nozzle (during the administration of the nasal spray) as much as possible to the outside of the nostril (so not toward the nasal septum) and inhale the liquid well.
Buy Avamys online
Possible Side Effects
Like all medicines, Avamys can cause side effects, although not everybody gets them.
Possible side effects include:
nosebleeds (long term use)
irritation of nose and / or throat
Difficulty swallowing
headache
Get Started
How much does Avamys cost?
Meet our team
PrivateDoc is happy to introduce you to some of our leading UK licensed clinicians who will be supporting you through your weight loss journey