Zolmitriptan

Zolmitriptan tablets contains zolmitriptan and belongs to a group of medicines called triptans. Zolmitriptan is used to treat migraine headache.

Like any other prescription medication you must consult a doctor before using it. PrivateDoc offers a confidential free consultation service that may result in you receiving a prescription for Zolmitriptan, if it can prescribed safely.

What is Zolmitriptan?
Migraine symptoms may be caused by the widening of blood vessels in the head. Zolmitriptan is thought to reduce the widening of these blood vessels. This helps to take away the headache and other symptoms of a migraine attack, such as feeling or being sick (nausea or vomiting) and being sensitive to light and sound.
Zolmitriptan works only when a migraine attack has started. It will not stop you from getting an attack.
How much does Zolmitriptan cost?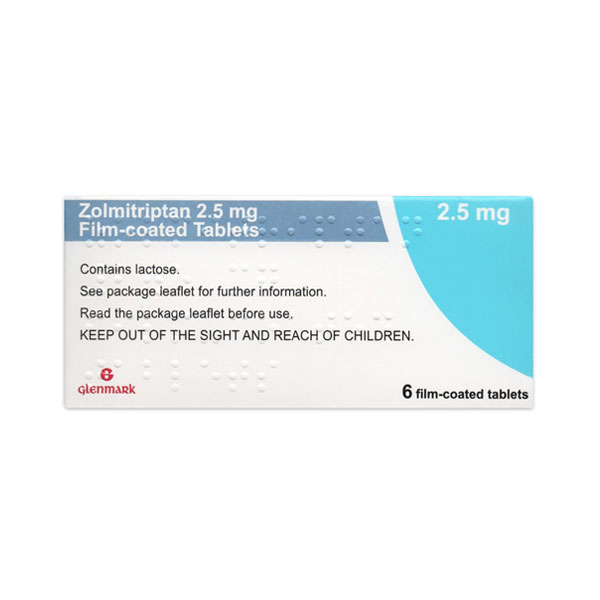 Who can use Zolmitriptan
Do not take Zolmitriptan tablets if you:-
are allergic (hypersensitive) to zolmitriptan or any of the other ingredients of this medicine.
have high blood pressure - have ever had heart problems, including a heart attack, angina (chest pain caused by exercise or effort), Prinzmetal's angina (chest pain which happens at rest) or have experienced heart related symptoms such as shortness of breath or pressure over the chest
have circulatory problems (restricted blood flow in your legs or arms)
have had a stroke or short-lasting symptoms similar to stroke (transient ischaemic attack or TIA)
have severe kidney problems
are at the same time taking some other medicines for migraine (e.g. ergotamine or ergot-type medicines like dihydroergotamine and methysergide) or other triptan medicines for migraine.
For further information and contraindications please see the patient information leaflet
Get Started
How to use Zolmitriptan
You can take Zolmitriptan as soon as a migraine headache starts. You can also take it once an attack is underway.
The recommended dose is one 2.5 mg tablet (2.5 mg zolmitriptan) or two 2.5 mg tablets (5 mg zolmitriptan). You can take another 2.5 mg tablet (2.5 mg zolmitriptan) or two 2.5 mg tablets (5 mg zolmitriptan) if the migraine is still present after two hours or if it returns within 24 hours.
If the tablets did not give you enough help with your migraine, tell your doctor. Your doctor may raise the dose to 5 mg zolmitriptan or change your treatment.
Do not use more than the dose prescribed for you.
Do not use more than two doses in one day
If your condition worsens, seek medical attention.
For further information and dosage please see the patient information leaflet
How much does Zolmitriptan cost?
Possible side effects
Like all medicines, this medicine can cause side effects, although not everybody gets them. Some of the symptoms below could be part of the migraine attack itself.
In adult studies, the most common side effects reported were dizziness, sleepiness and tiredness.
Common (affects 1 to 10 users in 100)
Abnormal sensations such as tingling in your fingers and toes or skin that is sensitive to touch.
Feeling sleepy, dizzy or warm
Headache
Uneven heart beat
Feeling sick, vomiting
Stomach pain
Dry mouth
Difficulty swallowing
Muscle weakness or muscle pain
Feeling weak
Heaviness, tightness, pain or pressure in throat, neck, arms and legs, or chest
For further information and a full list of possible side effects please see the patient information leaflet
Get Started
Meet our team
PrivateDoc is happy to introduce you to some of our leading UK licensed clinicians.