Yasmin

Yasmin is a combined contraceptive pill that contains synthetic oestrogen and progesterone, and are best taken regularly every day at the same time of day for 21 days of the cycle.

Combined contraceptive pills are not normally prescribed for women over 35 who smoke due to increase risk of thrombosis.

POM Yasmin contraception is prescription only medicine. Further details can be found in the Patient Information Leaflet for Yasmin.
Who can take Yasmin?
PrivateDoc will prescribe a 3-month supply of Yasmin contraceptive pill to women where Yasmin is suitable. Women qualify for Yasmin if:
They have been taking Yasmin for the last year.
They have had no problems with Yasmin in the last year.
They have had a face-to-face pill check-up for their contraceptive pill in the last year.
How much does Yasmin cost?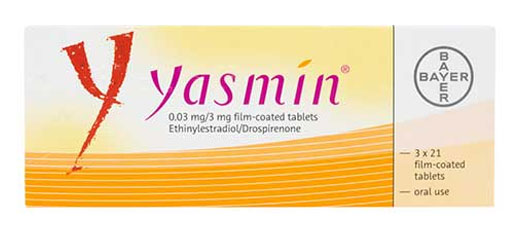 Packs and prices
Prescription included
How to take Yasmin
Take Yasmin every day for 21 days
Yasmin comes in strips of 21 pills, each marked with a day of the week.
Take your pill at the same time every day.
Start by taking a pill marked with the correct day of the week.
Follow the direction of the arrows on the strip. Take one pill each day, until you have finished all 21 pills.
Swallow each pill whole, with water if necessary. Do not chew the pill.
Then have seven pill-free days
After you have taken all 21 pills in the strip, you have seven days when you take no pills. So, if you take the last pill of one pack on a Friday, you will take the first pill of your next pack on the Saturday of the following week.
Within a few days of taking the last pill from the strip, you should have a withdrawal bleed like a period. This bleed may not have finished when it is time to start your next strip of pills.
You don't need to use extra contraception during these seven pill-free days – as long as you have taken your pills correctly and start the next strip of pills on time.
Then start your next strip
Start taking your next strip of Yasmin after the seven pill-free days – even if you are still bleeding. Always start the new strip on time.
During the seven pill-free days, when you take no tablets, bleeding should begin (so-called withdrawal bleeding). This usually starts on the 2nd or 3rdday after the last tablet of Yasmin. Start the following strip after the last day of the seven pill-free days, whether your bleeding has stopped or not.
Get Started
Bleeding between periods
During the first few months that you are taking Yasmin, you may have unexpected bleeding (bleeding outside the seven pill-free days). If this bleeding occurs for more than a few months, or if it begins after some months, contact your doctor as they must find out if anything is wrong.
If no bleeding occurs
If you have taken all the tablets correctly, have not had vomiting or severe diarrhoea and you have not taken any other medicines, it is highly unlikely that you are pregnant.
If the expected bleeding does not happen twice in succession, you may be pregnant. Contact your doctor immediately. Only start the next strip if you are sure that you are not pregnant.
Get Started
How much does Yasmin cost?
Meet our team
PrivateDoc is happy to introduce you to some of our leading UK licensed clinicians.