Telfast

Tablets

Telfast contains the antihistamine fexofenadine. It can be used in adults and children over 12 for the symptomatic relief of hay fever.

Like any other prescription medication you must consult a doctor before using it. PrivateDoc offers a confidential free consultation service that may result in you receiving a prescription for Telfast Tablets if it is deemed appropriate and can be prescribed safely.

What is Telfast?
Telfast (fexofenadine) belongs to a group of drugs known as anti-histamines. It can be used for the symptomatic relief of hay fever (sneezing, watery/red/itchy eyes, running/blocked/itchy nose and allergic rhinitis) in adults and adolescents aged over 12 years old.
The tablets are not recommended for use in patients under the age of 12.
Get Started
How much do Telfast Tablets cost?
How much does Telfast cost?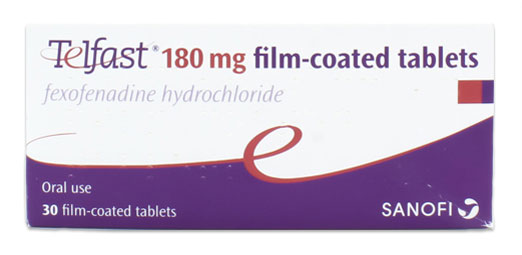 Active ingredients
Each 120mg tablet contains 120mg of Fexofenadine Hydrochloride (equivelent to 112mg of fexofenadine).
Each 180mg tablet contains 180mg of Fexofenadine Hydrochloride (equivelent to 168mg of fexofenadine)
What dose of Telfast should I take?
Adults
The recommended dose is ONE tablet ONCE daily before a meal.
PrivateDoc does not provide services to patients below the age of 18.
This is the usual recommended daily dose (www.medicines.org.uk) however you should always take the medication as instructed by your prescriber.
Side effects
Antihistamines are generally safe to take when used in appropriate patients. However, as with all medication, Telfast can cause unwanted side effects after taking the drug. These are generally mild in nature and include -
Common
Headache, Dizziness, Drowsiness & Nausea
It is highly recommended that all patients read the information leaflet provided before taking any medication.
Please be aware patients with a history of cardiovascular disease are more likely to experience side effects such as tachycardia or palpitations if they take any drug in the antihistamine class.
A comprehensive list of side effects can be accessed at www.medicines.org.uk or by accessing the patient information leaflet
Get Started
How much do Telfast Tablets cost?
Cautions
The tablet should be avoided if you have a known hypersensitivity reaction to the active ingredient or any of the tablet's excipients.
Elderly
There is limited data available on the effects of Telfast in the elderly. Therefore, the manufacturer recommends that it be used with caution in this age group.
Pregnancy
There is not enough data available for the effects of fexofenadine during pregnancy therefore its use should be avoided unless absolutely necessary.
Breast-feeding
When terfenadine was given to nursing mothers, it was noted that fexofenadine crossed over into human breast milk. As a result, it is not recommended for this patient group.
Renal/Hepatic Impairment
Data in this special group of patients is limited. Therefore, the manufacturer advises it should be used with caution.
Driving/operating machinery
Although most patients who take Telfast will experience no ill effects, it has the potential to cause drowsiness. Individual response to the medication should be assessed before driving or performing any complicated tasks.
Meet our team
PrivateDoc is happy to introduce you to some of our leading UK licensed clinicians.