Sons Finasteride
(
Finasteride

)

Finasteride is a hair loss prescription medication, which works by blocking DHT, the hormone responsible for male-pattern hair loss.

Like any other prescription medication you must consult a doctor before using it. PrivateDoc offers a confidential free consultation service that may result in you receiving a prescription for Sons Finasteride if it is deemed appropriate and Sons Finasteride can prescribed safely.

What conditions can Sons Finasteride be used for
Sons Finasteride contains finasteride, used for the treatment of hair loss in men with mild to moderate hair loss that have begun to notice their hair receding around the temples and crown area.
Get Started
How much does Sons Finasteride cost?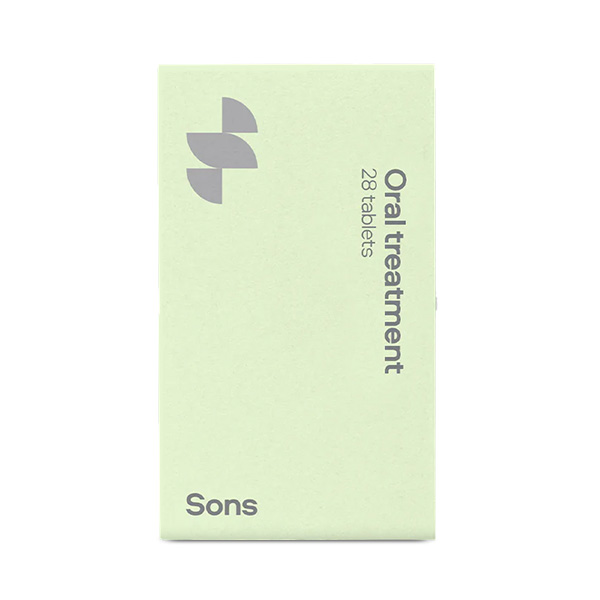 Packs and prices
Prescription included
How to use Sons Finasteride
Finasteride
Always take this medicine exactly as your doctor or pharmacist has told you. Check with your doctor or pharmacist if you are not sure.
The usual dose is one tablet each day.
The tablets can be taken with or without food.
Finasteride will not work faster or better if you take it more than once a day
Your doctor will help you to determine if Finasteride is working for you. It is important to take Finasteride for as long as your doctor prescribes it. Finasteride can only work over the long term if you continue taking it.
Full instructions can be found in the Sons Full Works product literature.
Ingredients
The active substance is finasteride.Each film-coated tablet contains 1mg finasteride
Other Ingredients
Tablet core: lactose monohydrate, maize starch, pregelatinised, docusate sodium, iron oxide yellow (E172), sodium starch glycolate (type A), cellulose microcrystalline, silica colloidal anhydrous, magnesium stearate, water purified.
Tablet coat: hydroxypropyl cellulose, hypromellose, talc, titanium dioxide (E171), iron oxide red (E172), iron oxide yellow (E172).
A full list of non-active ingredients (excipients) can be found in the patient information leaflet.
Who cannot use Sons Finasteride
Side effects
Sons Finasteride is generally well tolerated, but as is the case with all medication, a minority of patients may experience side effects from using the drug.
Stop taking Finasteride and talk to your doctor if you experience:
symptoms of an allergic reaction: swelling of your lips, face, tongue and throat; difficulty swallowing; lumps under your skin (hives) and breathing difficulties. Stop taking Finasteride and talk to your doctor immediately
depression (feeling of severe sadness and unworthiness)
you should promptly report to your doctor any changes in your breast tissue such as lumps, pain, enlargement or nipple discharge as these may be signs of a serious condition, such as breast cancer.
Uncommon (may affect up to 1 in 100 people):
less desire to have sex
difficulty having an erection
problems with ejaculation such as a decrease in the amount of semen released.
Frequency not known (frequency cannot be estimated from the available data):
breast swelling or tenderness
pain in the testicles
fast or irregular heart beat (palpitations)
persistent difficulty having an erection after discontinuation of treatment
persistent decrease in sex drive after discontinuation of treatment
persistent problems with ejaculation after discontinuation of treatment
infertility has been reported in men who took finasteride for long time and had other risk factors that may affect fertility. Normalisation or improvement of seminal quality has been reported after discontinuation of finasteride. Long-term clinical studies about the effect of finasteride on fertility in men have not been conducted.
increase in the level of liver enzymes (as seen in blood tests)
anxiety
A more complete list of side effects can be found in the patient information leaflet.
Get Started
How much does Sons Finasteride cost?
Meet our team
PrivateDoc is happy to introduce you to some of our leading UK licensed clinicians.