Viagra/Sildenafil
(generic Viagra)

Viagra/Sildenafil is a prescription treatment for men with ED (erectile dysfunction), a condition that affects your ability to get or keep an erection. It is a phosphodiesterase 5 type inhibitor (PDE5), which makes it from the same family of drugs as other well know ED medicines such as Cialis/Tadalafil. Viagra has been available in the UK as an ED treatment since 2003 and generic Sildenafil since 2013. Both medicines are available in 3 different strengths; 25mg, 50mg and 100mg tablets.

Viagra/Sildenafil can take between 30 to 60 minutes to take effect and should last no longer than four hours. This doesn't mean that you will have an erection that lasts 4 hours; Viagra/Sildenafil will only work when you are sexually stimulated.

It is best to take Viagra/Sildenafil on an empty stomach or after a low-fat meal because fatty food has been shown to reduce the rate of absorption and strength3,4. What you drink can also affect your performance, so avoid excessive alcohol and avoid grapefruit juice which may possibly affect the absorption of Viagra/Sildenafil.
How does Viagra/Sildenafil work?
When you are aroused your tissues release a chemical called nitric oxide (NO), this, in turn, causes the release of a second chemical called cyclic guanosine monophosphate (cGMP). cGMP causes the muscles at the sides of your penis to relax, allowing blood to rush in. The veins that drain the blood from your penis also get compressed, trapping the increased blood in your penis, resulting in an erection.
An enzyme called phosphodiesterase-5 (PDE5) breaks down the cGMP and your penis returns to its original state. Viagra/Sildenafil is a PDE5 inhibitor, meaning it blocks the action of PDE5. As your levels of cGMP remain high, the muscles at the side of your penis relax, more blood rushes in and you can achieve a firmer and longer lasting erection. It is important to remember that Viagra/Sildenafil only exerts its action when you are sexually aroused. It does not increase your sexual desire, and it will not resolve any underlying physical causes of your ED.
How much does Viagra/Sildenafil cost?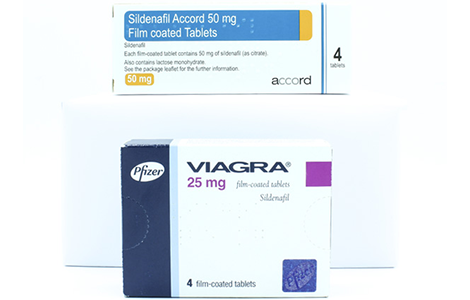 Strength
Pack size
* prices displayed are for generic products, branded will be more. Aavailable in packs of 4, 8, 12, 16, 20, 24, 32
How long does Viagra/Sildenafil take to work?
Viagra/Sildenafil can take between 30 to 60 minutes to take effect and should last no longer than four hours. The time it takes to work is different for each man, but if taken with food it can be a slower effect, so it's best to take on an empty stomach or after a low-fat meal3,4. Viagra/Sildenafil only works when you are sexually stimulated.
Get Started
How do I take Viagra/Sildenafil?
The recommended starting dose of Viagra/Sildenafil is 50mg, but it is also available in 25mg and 100mg doses, so your treatment can be tailored to suit you.
You take one tablet with a glass of water about 60 minutes before you anticipate you will have sexual activity. With sexual stimulation, you may achieve an erection anywhere from 30 minutes up to four hours after taking a treatment of Viagra/Sildenafil.
If I take more tablets, do I get a better effect?
You must not take more than 1 tablet a day or exceed the dose prescribed for you. If you feel that your dose is not appropriate, that the effects of the medication are too much, or not enough, your doctor can alter your dose.
If you do take more than the recommended dose your risk of side effects, including serious ones, like low blood pressure or an erection that wouldn't go away even after 4 hours, dramatically increases. If you do experience any side effects, particularly serious side effects, you should seek medical attention immediately.
Get Started
Is it safe to buy Viagra/Sildenafil online?
While many online retailers claim to supply genuine medicines, they may be unregulated, provided without a genuine doctor consultation and potentially very dangerous. You can rest assured, PrivateDoc is a fully registered digital health service. We have UK registered doctors that review and assess every consultation. All the medicines we supply are 100% genuine and fully regulated by the Medicines and Healthcare products Regulatory Agency (MHRA).
Buy Sildenafil online
Special considerations when taking Viagra/Sildenafil
Viagra/Sildenafil cannot be used:
with any other oral or local treatments for erectile dysfunction
with treatments for pulmonary arterial hypertension (PAH) containing Sildenafil or any other PDE5 inhibitors
if you do not have erectile dysfunction
if you are a woman
if you are under the age of 18
if you are allergic to Sildenafil or any of the other ingredients in this medicine
if you are taking medicines called nitrates, the combination may lead to a dangerous fall in your blood pressure. Tell your doctor if you are taking any of these medicines which are often given for relief of angina pectoris (or "chest pain"). If you are not certain, ask your doctor or pharmacist
if you are using any of the medicines known as nitric oxide donors such as amyl nitrite ("poppers"), the combination may also lead to a dangerous fall in your blood pressure
if you are taking riociguat. This drug is used to treat pulmonary arterial hypertension (i.e. high blood pressure in the lungs) and chronic thromboembolic pulmonary hypertension (i.e. high blood pressure in the lungs secondary to blood clots). PDE5 inhibitors, such as Viagra/Sildenafil have been shown to increase the hypotensive effects of this medicine. If you are taking riociguat or are unsure tell your doctor
if you have a severe heart or liver problem
if you have recently had a stroke or a heart attack, or if you have low blood pressure
if you have certain rare inherited eye diseases (such as retinitis pigmentosa)
if you have ever had loss of vision due to non-arteritic anterior ischaemic optic neuropathy (NAION)
Please tell your doctor if you are using, have recently used or might use any other medicines, including medicines obtained without a prescription. Some medicines may cause problems, especially these:
Nitrates, medicines for angina, or nitric oxide donors, such as amyl nitrite. Taking these medicines with Viagra/Sildenafil could seriously affect your blood pressure. Talk to a doctor without taking Viagra/Sildenafil
Medicine for the treatment of arrhythmias, such as quinidine, procainamide, amiodarone or sotalol
Ritonavir or indinavir, medicines for HIV. Talk to a doctor without taking Viagra/Sildenafil
Ketoconazole or itraconazole, anti-fungal medicines
Erythromycin, or clarithromycin, macrolide antibiotics
Alpha-blockers, a type of medicine used to treat high blood pressure and enlargement of the prostate (as benign prostatic hyperplasia)
Riociguat
Your doctor must take special care before starting you on Viagra/Sildenafil if you:
have sickle cell anaemia (an abnormality of red blood cells), leukaemia (cancer of blood cells), multiple myeloma (cancer of bone marrow)
have a deformity of your penis or Peyronie's Disease
have problems with your heart (your doctor should carefully check whether your heart can take the additional strain of having sex)
currently have a stomach ulcer or a bleeding problem (such as haemophilia)
experience sudden decrease or loss of vision (stop taking Viagra/Sildenafil and contact your doctor immediately)
have kidney or liver problems (your doctor may decide on a lower dose for you)
are taking medicines known as protease inhibitors, such as for the treatment of HIV, your doctor may start you on the lowest dose (25mg) of Viagra/Sildenafil
Other considerations:
You can take Viagra/Sildenafil with or without food, but preferably not after a heavy or high-fat meal as this may delay the effect
Alcoholic drinks can make erection difficulties worse
Viagra/Sildenafil might make some people feel dizzy or affect their vision. If you feel dizzy or if your vision is affected, after taking Viagra/Sildenafil, don't drive or operate any tools or machines
Get Started
What are the side effects associated with Viagra/Sildenafil?
Like all medicines, this medicine can cause side effects, although not everybody gets them. Most of the effects are mild or moderate.
Very common side effects of treatment (may affect more than 1 in 10 users)
Common (may affect up to 1 in 10 users)
Headache
Nausea
Facial flushing
Hot flush (symptoms include a sudden feeling of heat in your upper body)
Indigestion
Colour tinge to vision
Blurred vision
Visual disturbance
Stuffy nose
Dizziness
Uncommon side effects (may affect 1 in 100 users)
Vomiting
Skin rash
Eye irritation
Bloodshot eyes/red eyes
Eye pain
Seeing flashes of light
Visual brightness
Light sensitivity
Watery eyes
Pounding heartbeat
Rapid heartbeat
High blood pressure
Low blood pressure
Muscle pain
Feeling sleepy
Reduced sense of touch
Vertigo
Ringing in the ears
Dry mouth
Blocked or stuffy sinuses
Inflammation of the lining of the nose (symptoms include runny nose, sneezing and stuffy nose)
Upper abdominal pain
Gastro-oesophageal reflux disease (symptoms include heartburn)
Presence of blood in urine
Pain in the arms or legs
Nosebleed
Feeling hot
Feeling tired
Rare side effects (may affect 1 in 1,000 users)
Fainting
Stroke
Heart attack
Irregular heartbeat
Temporary decreased blood flow to parts of the brain
Feeling of tightening of the throat
Numb mouth
Bleeding at the back of the eye
Double vision
Reduced sharpness of vision,
Abnormal sensation in the eye
Swelling of the eye or eyelid
Small particles or spots in your vision
Seeing halos around lights,
Dilation of the pupil of the eye
Discolouration of the white of the eye
Penile bleeding
Presence of blood in semen
Dry nose
Swelling of the inside of the nose
Feeling irritable
Sudden decrease or loss of hearing
There are further very rare side effects that occasionally people can experience when taking Viagra/Sildenafil, for complete details about all side effects always read the Patient Information Leaflet.
Meet our team
PrivateDoc is happy to introduce you to some of our leading UK licensed clinicians.