How do I administer weight loss injections?
Saxenda weight loss injections are self-administered subcutaneous injections that you inject under your skin. The best sites for injecting are the front of your waist (abdomen), the front of your thigh or the upper arm. You must take extra care not to inject into a vein or muscle.
If you forget a dose, you can inject it as soon as you remember, as long as it is within 12 hours from when you usually take your dose. However, if more than 12 hours have passed since you should have used it, miss the dose and inject your next dose the following day at the usual time. Never use a double dose or increase the dose on the following day to make up for the missed dose. If there has been more than 72 hours (three days) between doses, you should return to the 0.6mg starting dose and work through the doses as you did when you first started treatment.
If you accidentally use more than you should, you must talk to a doctor or go to a hospital straight away. You may experience nausea or vomiting and may require medical treatment.
Where do I inject Saxenda?
Inject your dose under the skin (this is called a subcutaneous injection) in your stomach area (abdomen), upper leg (thigh), or upper arm. Do not inject into a vein or muscle. Saxenda is self-injectable in the upper arm, abdomen, or thigh.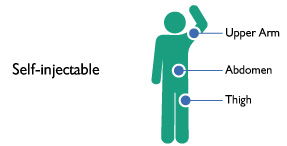 Do I need to increase the dose every week?
No is the simple answer. If you find that you experience sufficient appetite suppression on a lower dose you can stick with this. Using lower doses will reduce the likelihood of side effects. You then have the option to increase the dose at a later date if you find that the appetite suppression is not as effective.
How long can I use Saxenda?
There is no fixed time period for treatment with Saxenda and this will depend on our Doctor. They will decide if the medication is still the best option for you and is having the desired effect, however you should only continue over a period of 12 weeks if you demonstrate weight loss of 5% when used in conjunction with a calorie-controlled diet and regular exercise.
Did you know?
Over 40% of the population has tried to lose weight at some point in the last 5 years – so you're certainly not alone
What time of the day should I use my Saxenda medication?
Saxenda can be taken at any time of the day at a time that is convenient for you. For the best results stick to the same time each day.
Will I experience side effects using Saxenda?
All medication will have the potential of side effects and Saxenda is no different.
Nausea is the most common side effect experienced at the start of treatment. This will normally reduce in most cases as your body becomes used to the medication. You may experience an increase in side effects when you increase the dose, these should settle within a few days. There are some self-help tips you can try if you do suffer from nausea.
Eat bland, low-fat foods, like cracker toast and rice
Eat foods that contain water, like soups and gelatin
Don't lie down after you eat
Go outside to get some fresh air
The patient information leaflet sent with the treatment and a copy of this leaflet can be found here : https://www.medicines.org.uk/emc/files/pil.2313.pdf and also on www.saxenda.co.uk
What will I do if I experience side effects?
Please contact our customer care team and they will arrange for a member of our clinical team to contact you to discuss and offer advice. Our office hours are Monday to Friday 9.30am to 5pm.
If you suffer from any debilitating side effects out of these hours i.e. weekends or evenings after 5pm please contact NHS out of hours services or in an emergency 999.
England: 111, Wales: 0845 46 47, Scotland: NHS24 111, NI: Dependent on your area. Please refer to: https://111.nhs.uk/
How is Saxenda stored?
All new and unused Saxenda pens should be stored in a refrigerator between 2°C and 8°C. After first use, store in a refrigerator or at room temperature between 15°C and 30°C. Pens in use should be thrown away after 30 days even if they still have Saxenda left in them. Don't freeze Saxenda. Saxenda that has been frozen must not be used.
Can I take my Saxenda medication abroad?
Yes you can. Always carry medicines in their original, correctly labelled packages. Carry your medicine in your hand luggage (although check your airline's regulations before travelling) with a copy of your prescription. Contact customer care if you need a copy of the prescription. [email protected]
What diet should I follow?
What if I want to stop treatment?
There is no specific guidance set down for the end of your Saxenda course however the most important advice is to continue with the exercise and calorie-controlled diet. Saxenda is a tool to aid weight loss and cannot be continued indefinitely however it can provide you help to retrain your eating habits.
Key points moving forward
Watch what you eat, maintain smaller portion sizes and try not to snack. Ensure you drink plenty of water – we recommend at least eight glasses of water per day.
Consider using a diary or journal to help track what you are eating.
Continue with regular exercise, remember if you burn more calories than you intake you should not see the weight build again. The NHS advises we should try and get around 30 minutes of exercise five times a week.
What diet should I follow?
We know that to lose weight we need to burn more calories than we consume, but knowing where those calories come from and which foods to eat can be really confusing. That's why we've developed a diet guide to help our patients make simple, effective changes that ensure you are set up for a successful weight loss journey.
The PrivateDoc diet guide was written by Sirtfood Dietitian Glen Matten. Glen has an MSc in Nutritional Medicine and has transformed the health of thousands of patients, with over 15 years of clinical practice. His previous clients include sports stars (Conor Mcgregor), celebrities (Adele) (Lorraine Pascal) and global CEOs.
Glen has worked with us to develop the PrivateDoc Sirtfood Diet which includes a complete guide to the Sirtfood diet, it's principles, nutrition, weight loss tips and an example 7-day diet plan.
Once you have learnt the principles of the Sirtfood diet these can then be implemented to create your own menu, live healthily and continue to thrive. Our aim is that after completing this guide you will have a better understanding of nutrition, what to eat, why to eat it and when.
Let's take care of it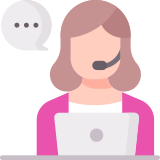 02.
Get personalised care
We'll provide you with a tailored treatment plan from a UK registered doctor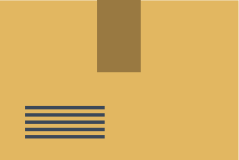 03.
Get next day delivery
Receive genuine medication shipped discreetly to your door