Propecia-Finasteride

Propecia/Finasteride is a prescription treatment for men experiencing male pattern hair loss (androgenetic alopecia), which affects men who are genetically susceptible. It is known as a 5-alpha reductase inhibitor which blocks the conversion of testosterone to dihydrotestosterone (DHT), the hormone that causes hair loss. Finasteride has been available under the brand name Propecia since 1997 and is now also available in its generic form. For the treatment of hair loss. it is only available in a strength of 1mg tablets.

Propecia/Finasteride is only suitable for you if you are experiencing hair loss in the form of "male pattern baldness". It is not a cure for hair loss but is a very effective treatment to stop and possibly reverse the hair loss for as long as you continue treatment. A daily dose of 1 x 1mg tablet should be taken for at least 3 to 6 months before results are noticeable.

You need to take Propecia/Finasteride only once daily. It does not matter what time of day, or if you take it before or after food, so it is very easy to incorporate it into your regular daily routine.
How does Propecia/Finasteride work?
Hair loss caused by male pattern baldness, characterised by a receding hairline and balding at the crown, occurs when the hormone DHT is found in increased concentrations in hair follicles, resulting in a reduction in the growth phase and thinning of the hair1. Propecia/Finasteride inhibits the conversion of testosterone into DHT which in turn can reduce and reverse the hair loss.
How much does Propecia/Finasteride cost?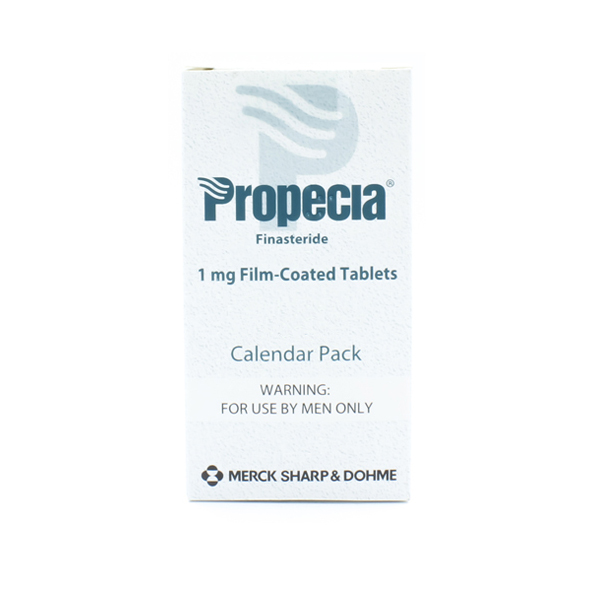 Pack size
Prescription included
1mg
Is Propecia/Finasteride suitable for me?
If you are experiencing hair loss as 'male pattern baldness' then our doctors can help you to decide if it is suitable for you, following a brief online consultation. It may not be suitable if you have complete baldness. Although women can sometimes experience a similar pattern of hair loss, Propecia/Finasteride is not suitable to be taken by women.
Get Started
How do I take Propecia/Finasteride?
Propecia/Finasteride should be taken as a dose of 1 x 1mg tablets every day, with or without food. It is best to develop a regular daily routine at a time that suits you and makes it easy for you to remember to take it every day. You can continue to take it for as long as it remains effective, but you may not notice any results for at least 3 to 6 months.
What do we need to know?
Propecia/Finasteride is not a cure for hair loss but it is very effective if you continue to take it regularly. Once you stop taking Propecia/Finasteride, any results you see will start to reverse again.
Clinical studies in men, conducted over 5 years, showed that 48% of men showed an improvement and a further 42% stopped further hair loss2.
Get Started
What are the possible side effects of taking Propecia/Finasteride?
Like all medicines, Propecia/Finasteride can cause side effects, although not everybody gets them. Most of the effects are mild or moderate.
Stop taking Propecia/Finasteride and talk to your doctor if you experience:
Symptoms of an allergic reaction, such as swelling of your lips, face, tongue and throat; difficulty swallowing; lumps under your skin (hives) and breathing difficulties
Depression
You should also promptly report to your doctor if you notice any changes in your breast tissue such as lumps, pain, enlargement or nipple discharge as these may be signs of a serious condition, such as breast cancer
Uncommon: may affect up to 1 in 100 users
you may be unable to have an erection (impotence)
you may have less desire to have sex
you may have problems with ejaculation, for example a decrease in the amount of semen released during sex. This decrease in the amount of semen does not appear to affect normal sexual function.
Frequency unknown:
breast swelling or tenderness
palpitations (feeling your heartbeat)
changes in the way your liver is working, which can be shown by a blood test
pain in the testicles
blood in semen
persistent difficulty having an erection after discontinuation of treatment
persistent decrease in sex drive after discontinuation of treatment
persistent problems with ejaculation after discontinuation of treatment
male infertility and/or poor quality of semen
anxiety
If any of these side effects become serious, or if you notice any side effects which are not listed, please tell our doctors. It will be helpful if you make a note of what happened, when it started and how long it lasted.
Meet our team
PrivateDoc is happy to introduce you to some of our leading UK licensed clinicians.