Priligy

Priligy is a prescription treatment if you are male and experiencing premature ejaculation (PE), which can affect you at any age. It contains the active ingredient Dapoxetine, a type of medicine called an SSRI, originally developed to treat depression but then found to be effective for treating PE. Priligy increases the time it takes to ejaculate, can improve control over ejaculation and therefore reduces the frustration and anxiety you feel when experiencing PE. Unlike the SSRI medicines used to treat depression, it is short-acting and works more quickly, so you only take it when it is needed.

Priligy is suitable for men between the ages of 18 to 64 who are experiencing PE. It is available in strengths of 30mg and 60mg tablets, you start on a 30mg dose, increasing to 60mg only if your doctor thinks that it is appropriate for you. PE can mean different things to different men, so our doctors would need to understand how this affects you before deciding if it is suitable for you.

Priligy has been shown to improve sexual satisfaction in men who have PE, helping you to last up to 3 times longer1. Other non-medical self-help techniques in combination with treatment may give you the best results.
Buy Priligy online
How does Priligy work?
Priligy is a type of medicine known as selective serotonin reuptake inhibitor (SSRI). It exerts its action by helping to maintain the body's natural serotonin levels. Serotonin is a natural hormone in our bodies which is responsible for many activities, including helping to regulate our mood and wellbeing. The involvement of serotonin in sexual arousal and ejaculation is not clearly understood but is believed to have a role because of the effectiveness of treatment with SSRIs such as Priligy.
How much does Priligy cost?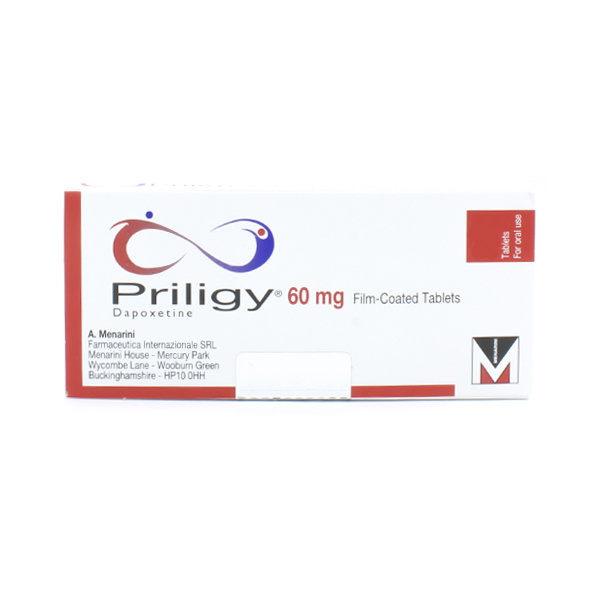 Is Priligy suitable for me?
If you are a man between the ages of 18 and 64, have had repeated experiences of ejaculating within 2 minutes of penetration over the last 6 months, and this is causing you distress personally or within your relationship, then Priligy may be suitable for you. Our doctors will help you to understand if what you are experiencing is PE and whether treatment with Priligy is appropriate for you.
Get Started
How do I take Priligy?
Priligy should be taken between 1 to 3 hours before you are expecting sexual activity. The tablet should be swallowed whole with a full glass of water, with or without food. Do not drink alcohol whilst taking Priligy tablets.You should never take more than one dose of the tablet each day, or within a 24-hour period.
What do we need to know?
You must answer the consultation questions honestly and fully so our doctors can ensure that treatment is appropriate for you and we can give you the best advice.
Priligy is not suitable if you have certain health conditions including, heart conditions, unstable epilepsy or a history of fainting or severe depression. It also cannot be taken alongside some prescription and non-prescription medicines. Our doctors can advise you fully if treatment is suitable for you.
Get Started
How much does Priligy cost?
What are the possible side effects of taking Priligy?
Like all medicines, Priligy can cause side effects, although not everybody gets them.
Stop taking Priligy and contact our doctors straight away if:
You have fits (seizures)
You faint or feel light-headed when you stand up
You notice any changes in your mood
You have any thoughts of suicide or harming yourself.
If you notice any of the above, stop taking Priligy and contact our doctors straight away, or seek medical attention if symptoms are severe.
Fainting and low blood pressure
This medicine can make you faint or make your blood pressure drop when you stand up. To help lower the chance of this happening:
Take this medicine with at least one full glass of water
Do not take this medicine if you are dehydrated (you do not have enough water in your body). This can happen if:
– You have not had anything to drink in the past 4 to 6 hours
– You have been sweating for a long time
– You have an illness where you have a high temperature, diarrhoea or being sick
If you feel like you might faint (such as feeling sick, feeling dizzy, light-headed, confused, sweaty or an abnormal heartbeat), or feel light-headed when you stand up, then you should immediately lie down so your head is lower than the rest of your body or sit down with your head between your knees until you feel better. This will stop you from falling and hurting yourself if you do faint
Do not stand up quickly after you have been sitting or lying down for a long time
Do not drive or use any tools or machines if you feel faint when taking this medicine
Tell our doctors if you faint when taking this medicine.
Very common side effects: may affect more than 1 in 10 men
Feeling dizzy
Headache
Feeling sick
Common side effects: may affect up to 1 in 10 men
Feeling irritable, anxious, agitated or restless
Feeling numb or having 'pins and needles'
Difficulty getting or keeping an erection
Sweating more than normal or flushing
Diarrhoea, constipation or having wind
Stomach pain, bloating or being sick
Problems sleeping or strange dreams
Feeling tired or sleepy, yawning
Blocked nose (nasal congestion)
A rise in blood pressure
Difficulty concentrating
Shaking or trembling
Lower interest in sex
Ringing in the ears
Blurred vision
Indigestion
Dry mouth
Uncommon side effects: may affect up to 1 in 100 men
Fainting or feeling dizzy upon standing (see advice above)
Change in mood, feeling overly excited or feelings of paranoia
Feeling confused, disoriented or unable to think clearly
Slow or irregular heartbeat or increase in heart rate
Loss of sex drive, problems reaching orgasm
Feeling weak, sedated, lethargic or fatigued
Feeling depressed, nervous or indifferent
Feeling hot, jittery, abnormal or drunk
Vision problems, eye pain or dilated pupill
Low or high blood pressure
Feeling itchy or cold sweat
Spinning sensation
Abnormal taste
Teeth grinding
Rare side effects: may affect up to 1 in 1,000 men
Feeling dizzy following exertion
Sudden onset of sleep
Urgency of bowel action
Reporting of side effects
If you get any side effects, contact our doctors, this includes any possible side effects that are not listed here.
Get Started
How much does Priligy cost?
Meet our team
PrivateDoc is happy to introduce you to some of our leading UK licensed clinicians.