Maxalt Melt

Maxalt Melt belongs to a class of medicines called selective serotonin 5-HT1B/1D receptor agonists. It is used to treat the headache phase of the migraine attack in adults.

Like any other prescription medication you must consult a doctor before using it. PrivateDoc offers a confidential free consultation service that may result in you receiving a prescription for Maxalt Melt, if it can prescribed safely.

What is Maxalt Melt?
Maxalt Melt is a medication which reduces swelling of blood vessels surrounding the brain. This swelling results in the headache pain of a migraine attack.
How much does Maxalt Melt cost?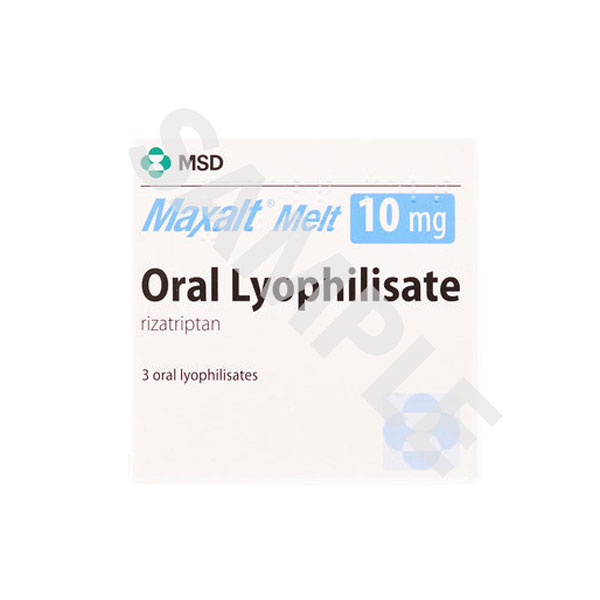 Who can use Maxalt Melt
Do not take Maxalt Melt if:
you are allergic to rizatriptan benzoate or any of the other ingredients of Maxalt Melt
you have moderately severe or severe high blood pressure or mild high blood pressure that is not controlled by medication
you have or have ever had heart problems including heart attack or pain on the chest (angina) or you have experienced heart disease related signs
you have severe liver or severe kidney problems
you have had a stroke (cerebrovascular accident CVA) or mini stroke (transient ischaemic attack TIA)
you have blockage problems with your arteries (peripheral vascular disease)
you are taking monoamine oxidase (MAO) inhibitors such as moclobemide, phenelzine, tranylcypromine, or pargyline (drugs against depression), or linezolid (an antibiotic), or if it has been less than two weeks since you stopped taking MAO inhibitors
you are now taking ergotamine-type medications, such as ergotamine or dihydroergotamine to treat your migraine or methysergide to prevent a migraine attack
you are taking any other drug in the same class, such as sumatriptan, naratriptan, or zolmitriptan to treat your migraine
For further information and contraindications please see the patient information leaflet
How to take Maxalt
MAXALT MELT can take longer to work if it is taken after food. Although it is better to take it on an empty stomach, you can still take it if you have eaten
MAXALT MELT is used to treat migraine attacks. Take MAXALT MELT as soon as possible after your migraine headache has started. Do not use it to prevent an attack.
Always take MAXALT MELT exactly as your doctor has told you. You should check with your doctor or your pharmacist if you are not sure. The usual dose is 10 mg.
If you are currently taking propranolol or have kidney or liver problems you should use the 5-mg dose of MAXALT. You should leave at least 2 hours between taking propranolol and MAXALT MELT up to a maximum of 2 doses in a 24-hour period.
MAXALT (rizatriptan benzoate) is available as a 5 or 10 mg oral lyophilisate that dissolves in the mouth.
Open the MAXALT MELT oral lyophilisate blister pack with dry hands.
The oral lyophilisate should be placed on your tongue, where it dissolves and can be swallowed with the saliva.
The oral lyophilisate can be used in situations in which liquids are not available, or to avoid the nausea and vomiting that may accompany the ingestion of tablets with liquids.
If migraine returns within 24 hours:-
In some patients, migraine symptoms can return within a 24-hour period. If your migraine does return you can take an additional dose of MAXALT MELT. You should always wait at least 2 hours between doses.
If after 2 hours you still have a migraine
If you do not respond to the first dose of MAXALT MELT during an attack, you should not take a second dose of MAXALT MELT for treatment of the same attack. It is still likely, however, that you will respond to MAXALT MELT during the next attack.
Do not take more than 2 doses of MAXALT MELT in a 24-hour period, (for example, do not take more than two 10 mg oral lyophilisates or more than two 10 mg or 5 mg tablets in a 24-hour period). You should always wait at least 2 hours between doses.
If your condition worsens, seek medical attention.
For further information and dosage please see the patient information leaflet
Possible side effects
Like all medicines, MAXALT can cause side effects, although not everybody gets them. The following side effects may happen with this medicine:-
In adult studies, the most common side effects reported were dizziness, sleepiness and tiredness.
Common (affects 1 to 10 users in 100)
tingling (paraesthesia), headache, decreased sensitivity of skin (hypoaesthesia), decreased mental sharpness, insomnia.
fast or irregular heart beat (palpitation).
flushing (redness of the face lasting a short time).
throat discomfort.
feeling sick (nausea), dry mouth, vomiting, diarrhea, indigestion (dyspepsia).
feeling of heaviness in parts of the body, neck pain, stiffness.
pain in abdomen or chest.
Tell your doctor right away if you have symptoms of allergic reactions, serotonin syndrome, heart attack or stroke.
In addition, tell your doctor if you experience any symptoms that suggest an allergic reaction (such as a rash or itching) after taking MAXALT MELT.
For further information and a full list of possible side effects please see the patient information leaflet