Kliofem Tablets


Like any other prescription medication you must consult a doctor before using it. PrivateDoc offers a confidential free consultation service that may result in you receiving a prescription for Kliofem Tablets if it is deemed appropriate and Kliofem Tablets can prescribed safely.

What are Kliofem Tablets?
Kliofem Tablets are used for Hormone Replacement Therapy (HRT) for oestrogen deficiency symptoms in postmenopausal women with more than 1 year since last menses.
Prevention of osteoporosis in postmenopausal women at high risk of future fractures who are intolerant of or contraindicated for other medicinal products approved for the prevention of osteoporosis
How much do Kliofem Tablets cost?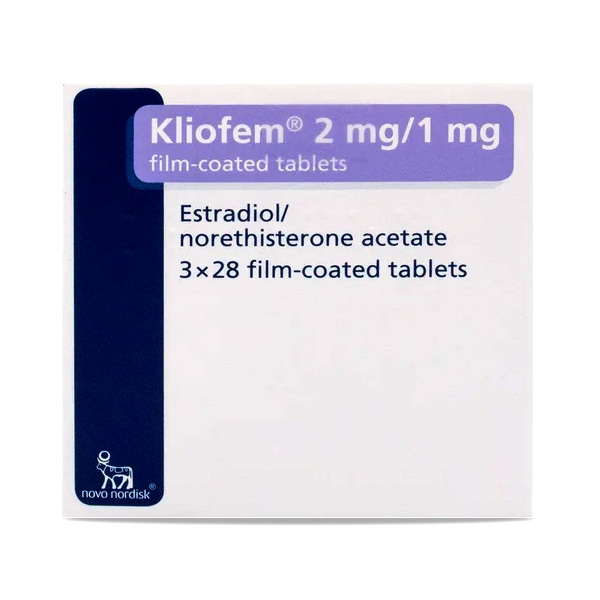 Packs and prices
Prescription included
How do you use Kliofem Tablets?
Take one tablet once a day, at about the same time each day. Take the tablet with a glass of water.
Take a tablet every day without stopping. After you have used all 28 tablets in a calendar pack, go straight to using the next pack.
If you have forgotten to take a tablet, the tablet should be taken as soon as possible within the next 12 hours. If more than 12 hours have passed, the tablet should be discarded. Forgetting a dose may increase the likelihood of breakthrough bleeding and spotting.
Read the Patient Information Leaflet
Pregnancy and lactation
Pregnancy:
Kliofem is not indicated during pregnancy.
If pregnancy occurs during medication with Kliofem, treatment should be withdrawn immediately.
Clinically, data on a limited number of exposed pregnancies indicate adverse effects of norethisterone on the foetus. At doses higher than those normally used in OC and HRT formulations, masculinisation of female foetuses was observed.
The results of most epidemiological studies to date, relevant to inadvertent foetal exposure to combinations of oestrogens and progestagens, indicate no teratogenic or foetotoxic effect.
Lactation:
Kliofem is not indicated during lactation.
Side effects
Like all medicines, this medicine can have side effects, although not everybody gets them
The following diseases are reported more often in women using HRT compared to women not using HRT:
breast cancer
abnormal growth or cancer of the lining of the womb (endometrial hyperplasia or cancer)
ovarian cancer
blood clots in the veins of the legs or lungs (venous thromboembolism)
heart disease
stroke
probable memory loss if HRT is started over the age of 65.
Very common (1 in 10 people or more):
Breast pain or breast tenderness
Vaginal bleeding
Common (1 in 10 people or less):
Headache
Weight gain caused by fluid retention
Vaginal inflammation
Migraine, new or worse than before
Vaginal infection with a fungus
Depression, new or worse than before
Nausea
Abdominal pain, swelling or discomfort
Enlargement or swelling of the breasts (breast oedema)
Back pain
Leg cramps
Uterine fibroid (benign tumour), aggravation, occurrence or recurrence
Swelling of arms and legs (peripheral oedema)
Weight increase.
Uncommon (1 in 100 people or less):
Hypersensitivity/allergy - Though it is an uncommon event, hypersensitivity/allergy may occur. Signs of hypersensitivity/allergy may include one or more of the following symptoms: hives, itching, swelling, difficulty in breathing, low blood pressure (paleness and coldness of skin, rapid heartbeat), feeling dizzy, sweating, which could be signs of anaphylactic reaction/shock. If one of the mentioned symptoms appears, stop taking Kliofem® and seek immediate medical help.
Bloating or flatulence
Acne
Hair loss (alopecia)
Abnormal (male pattern) hair growth
Itching or hives (urticaria)
Inflammation of a vein (superficial thrombophlebitis)
Drug ineffective
Allergic reaction
Nervousness.
Rare (1 in 1,000 people or less):
Blood clots in the blood vessels of the legs or the lungs (deep vein thrombosis, lung embolism).
Very rare (1 in 10,000 people or less):
Cancer of the lining of the womb (endometrial cancer)
Excessive growth of the lining of the womb (endometrial hyperplasia)
Increase in blood pressure or worsening of high blood pressure
Gall bladder disease, gallstones occurrence/recurrence or aggravated
Excessive secretion of sebum, skin eruption
Acute or recurring attack of oedema (angioneurotic oedema)
Insomnia, dizziness, anxiety
Change in sexual desire
Visual disturbances
Weight decreased
Vomiting
Heartburn
Vaginal and genital itching
Heart attack and stroke.
Other side effects of combined HRT
The following side effects have been reported with other HRTs:
Various skin disorders:

discolouration of the skin, especially of the face or neck, known as 'pregnancy patches' (chloasma)
painful reddish skin nodules (erythema nodosum)
rash with target-shaped reddening or sores (erythema multiforme)
red or purple discolourations of the skin and/or mucous membranes (vascular purpura)

Dry eyes
Tear film composition changes.
This is only a summary, please refer to patient information leaflet provided or link below for comprehensive list. Patient Information Leaflet
Get Started
How much do Kliofem Tablets cost?
Contraindications
Kliofem Tablets should not be used by women with any of the following conditions:
Known, past or suspected oestrogen-dependent malignant tumours (e.g. endometrial cancer)
Undiagnosed genital bleeding
Untreated endometrial hyperplasia
Previous or current venous thromboembolism (deep venous thrombosis, pulmonary embolism)
Known thrombophilic disorders (e.g. protein C, protein S or antithrombin deficiency (see section 4.4))
Active or previous arterial thromboembolic disease (e.g. angina, myocardial infarction)
Acute liver disease or a history of liver disease as long as liver function tests have failed to return to normal
Known hypersensitivity to the active substances or to any of the excipients
Porphyria.
Get Started
How much do Kliofem Tablets cost?
Meet our team
PrivateDoc is happy to introduce you to some of our leading UK licensed clinicians.