Dymista

Dymista Nasal Spray contains two active ingredients: Azelastine which suppresses allergic reactions and Fluticasone which helps decrease inflammation.

Like any other prescription medication you must consult a doctor before using it. PrivateDoc offers a confidential free consultation service that may result in you receiving a prescription for Dymista if it is deemed appropriate and can prescribed safely.

What is Dymista
DYMISTA is a prescription medicine used to treat symptoms of seasonal allergic rhinitis in people 12 years of age and older, who need treatment with both azelastine hydrochloride and fluticasone propionate. DYMISTA may help to reduce your nasal symptoms including stuffy nose, runny nose, itching, and sneezing.
Get Started
How much does Dymista cost?
How much does Dymista cost?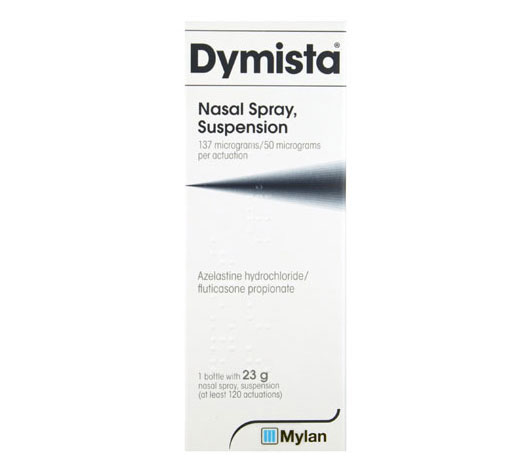 Packs and prices
Prescription included
Active Ingredients and presentation
Dymista contains two active ingredients. Each spray contains -
Azelastine hydrochloride

137mcg (equivelent to 125mcg of azelastine)

Fluticasone propionate

50mcg
The drug is presented as a white suspension in the form of a nasal spray.
Possible side effects
Like all medicines, Dymista can cause side effects, although not everybody gets them.
Possible side effects include:
sleepiness or drowsiness
nasal problems
nosebleed
altered sense of taste
headache
sinus pain
cough
sore throat
slow wound healing
thrush (Candida, a fungal infection in your nose and throat)
eye problems such as glaucoma or cataracts
immune system problems that can increase your risk of infections
Get Started
Buy Dymista online
What dose of Dymista should I use?
Adults and adolescents over 12 years of age
The recommended dose is ONE spray to each nostril TWICE daily (Use in the morning and the evening)
Under 12 years of age
Not recommended
This is the usual recommended dose (www.medicines.org.uk) however you should always take the medication in accordance with the instructions from your prescriber.
Meet our team
PrivateDoc is happy to introduce you to some of our leading UK licensed clinicians.