UK's biggest lab, based in London
Test kits delivered within 48hrs
Rapid results service
All tests results reviewed within 30 minutes
01.
We send you a kit
Receive a test collection kit to your home.
Collect samples using the easy to follow instructions with the kit guiding you through the entire process.
02.
You return the samples
Returning your test is simple. A prepaid wallet is provided, already barcoded specifically for you, with no need to enter your information. Once received your sample is processed in our testing service lab.
03.
We send you the results
When your results are ready our fast electronic interface to the lab makes your results available same day. A member of our clinical team will review your results and recommend treatment based on the results.
Why use our Obesity screening test service?
Safe and Discrete sample collection from your own home.
Secure and discrete messaging with PrivateDoc when results are available.
Laboratory Service provided by one of the largest pathology laboratories in Europe.
Clinician review within 2 hours of receipt of results from the lab.
Rapid results service, from Lab to PrivateDoc via an electronic interface.
Prescription treatment available following clinical review of results.
How much does a Obesity screening test cost?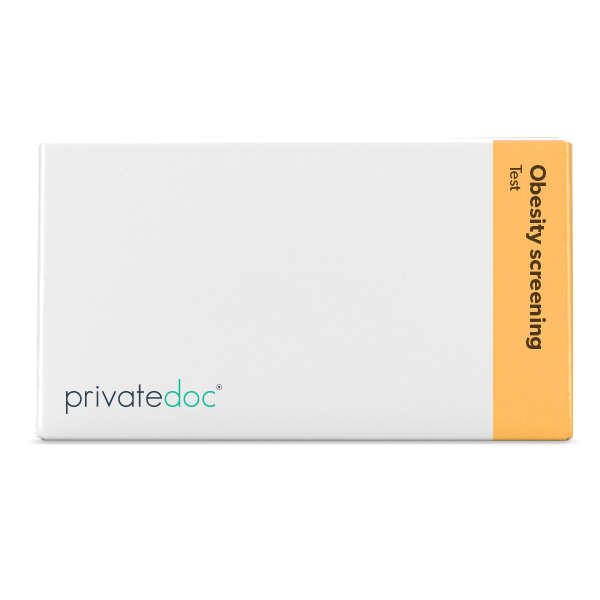 How to use the Obesity screening Test Kit
Self-collection Obesity screening test kits allow you to collect a sample at home and then send it to our laboratory for testing. The process involves the following steps:
Order the from PrivateDoc and receive it within 48 hours.
Follow the instructions provided in the kit to collect the sample. This may involve using a swab to collect a sample from your genitals and/or throat and by providing a urine or blood sample.
Package the sample according to the instructions provided in the kit. This will involve placing the sample in the provided collection containers and sealing it.
Return the sample back to our laboratory using the instructions provided in the kit. A prepaid return envelope is provided to make this easy.
It's important to follow the instructions carefully and handle the samples properly to ensure that it is collected and transported correctly. After the sample is received by our laboratory, it will be screened for the profiles that make up the kit The results will typically be available online within a few days once they are reviewed by one of our doctors.
How much does a Obesity screening test cost?